The Best Air Mattress
in Australia for 2022
An air mattress can be a fantastic purchase if you want to sleep more comfortably while camping or travelling. A mattress is also a relatively cheap and easy way to be more hospitable when you have overnight guests at your home.
Australians have many options for comfortable and innovative air mattresses, but the wide selection may also be overwhelming. As a guide, we've reviewed the top ten choices, whether you are shopping for a child's air mattress or in the market for a portable model to take with you on the road.
A great deal is one factor that will help you rest easier, so we have explored various budgets and several different manufacturers that serve Australia. All these options are quality products with attractive features.
Choosing the best air mattress in Australia doesn't need to be complicated—browse our list below and sleep easy.
The Top Ten Best Air Mattresses in Australia
1. Intex Rest Raised Airbed: Best Overall Air Mattress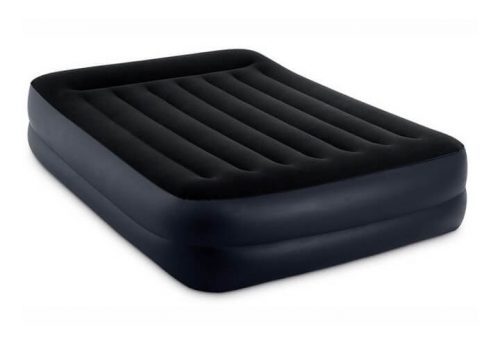 You can't go wrong with an Intex air mattress, and that's not a generalization we make easily. The company manufactures a range of quality products, but what sets the Intex Rest Raised Airbed apart is its consistency with glowing customer reviews. It is a prime demonstration that this model works well for a range of uses.
The built-in pump inflates the queen-sized mattress in about three minutes. A built-in pillow and "Fibre-Tech" interior construction provide extra comfort and stability, even on a last-minute trip.
The mattress top surface the integrated pillow are exceptionally soft, yet the interior construction is sound enough that the air mattress is stable and not prone to rocking.
If you are looking for a solid, all-purpose air mattress that can satisfy a variety of sleep needs, this Intex model is an excellent choice.
2. Bestway Camping Mattress Air Inflatable Bed: Best Air Mattress Value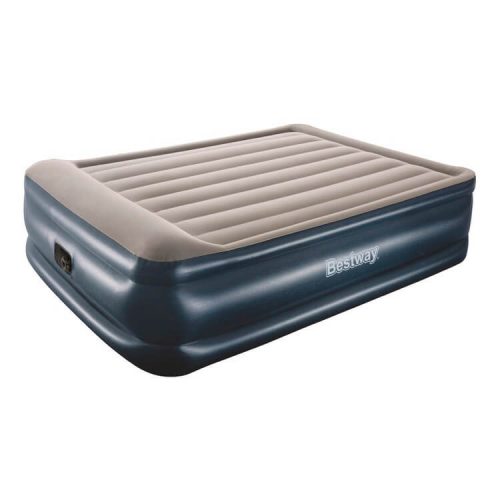 Prices change, and manufacturers and distributors offer deals periodically, but the Bestway Camping Mattress is generally a reliable mid-range model. It adds features that customers can appreciate, including being rugged enough to take out in the bush.
It still provides a stable and comfortable sleeping surface after a long day hiking in the wilderness. You can also automatically inflate this lightweight queen-sized bed in a matter of minutes.
The Bestway Camping Mattress's I-beam construction is the secret to the rugged interior construction. It is ideal for outdoor conditions and rough settings, but the stability and the flocked surface make it luxurious enough to set up for visitors at home, as well.
3. PremAire II Intex Camping Air Mattress: Best High-End Air Mattress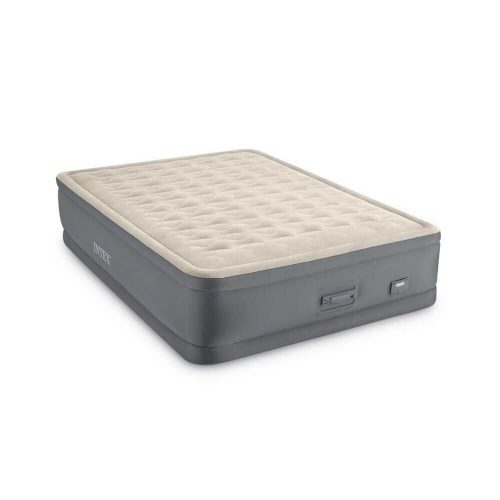 If you have some stretch room in your budget, you might be interested in a PremAire II Intex Camping air mattress. It is hardy enough to take on a camping trip but so luxurious that you may mistake it for a traditional bed.
In addition to a standard carrying bag and a built-in pump, special features include a USB port and storage compartments for your electronics and other small gear.
The PremAire II Intex Camping model also has a dial that lets users fine-tune the firmness for a more comfortable experience. Built-in air pockets on the sleeping surface and a robust polyester weave ensure this air mattress will stay comfortable for years of use without stretching or sagging.
The combination of quality and durability make this a fine selection for those willing to pay a premium—you may even want to use it as a permanent bed.
4. Coleman Quick Air Mattress: Best Bargain Air Mattress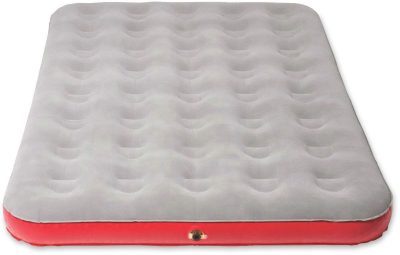 If you only need an occasional indoor air mattress, the Coleman Quick model offers comfort at a surprisingly low price. The basic air mattress lacks features like a built-in pump, and it is not designed for outdoor use. However, it is comfortable and reliable.
The product includes leak-resistant PVC topped with an antimicrobial fabric that keeps mildew, fungus, and mould at bay. It also comes in all sizes, from extra-long single all the way to queen.
Is the Coleman Quick air mattress fancy? No, but you can save money and storage space by buying a smaller air mattress if that is a concern.
Is it a great purchase for a frugal shopper who may have overnight guests a few nights a year? Absolutely.
5. BCF Double High Velour Airbed: Best Comfort-for-Size Choice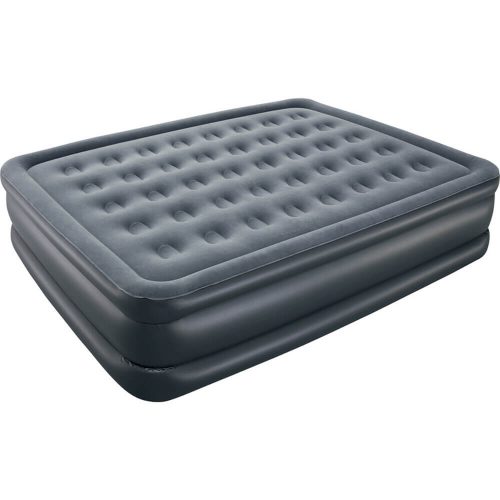 If the goal of an air mattress is to make customers feel like they are sleeping on a cloud, BCF's Double High Velour Airbed hits the mark. BCF offers a range of comfortable air mattresses, though some are quite a bit wider than this model.
The double High Velour Airbed is still considered queen-sized, but it is slightly more economical for cost-conscious shoppers and homeowners concerned about having enough space to store it.
The BCF model also provides an impressive height compared to normal airbed choices. As a double-high mattress, you will not have to do crunches or push-ups to get yourself out of bed in the morning. If you consider its plush, velour surface, you may not want to get out of the bed at all.
The air mattress is robust, though. It's sturdy enough to take camping, and there's a comprehensive patch kit if you somehow spring a leak.
6. Coleman All-Terrain Airbed: Best Air Mattress for Camping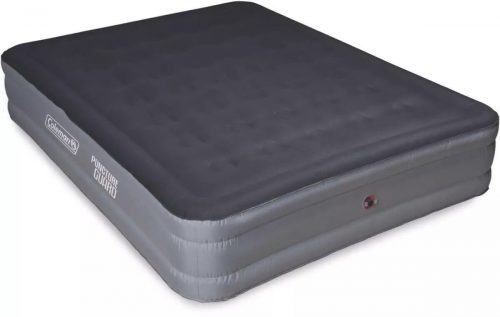 Some of our listed air mattresses are rugged enough to survive a camping trip or two, but the Coleman All-Terrain Airbed is in its own class. It was specifically designed with the outdoorsman in mind.
It is a rugged model with coil construction wrapped in bonded, puncture-resistant fabric and sealed with a dual-lock valve. The tough mattress is built to prevent stretching and supports a staggering weight of more than 350 kilograms.
When you are ready to hit the trail, it is also simple to "wrap 'n' roll" a Coleman All-Terrain Airbed. Space is at a premium when you are packing, so you still can order this model as a queen-size or purchase a smaller extra-long single to save on budget.
If you need a stronger air mattress suited to strenuous adventures, the Coleman All-Terrain Airbed is a stellar pick at a fair price and even more impressive portability.
7. Aerobed Active Bed: Best Air Mattress for Travel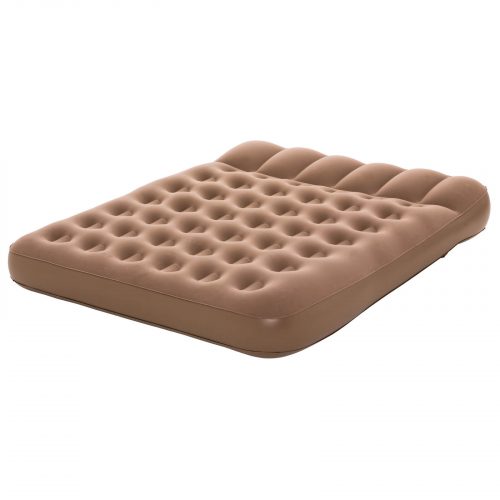 The Aerobed Active Bed is tiny when deflated in comparison to other choices. The rechargeable external pump also makes it an ideal choice for campers and people travelling by car or plane.
You may select a single, double, or queen-sized mattress to provide the sleeping area you need while keeping your mattress size to the smallest possible version. It's compact and extremely portable in any size.
Once you are ready for dreamland, the Aerobed Active bed inflates in seconds using a nickel-cadmium and DC dual power pump. It is well-suited for customers who live life at full speed because the external pump can charge from a wall socket or from your car, depending on where you are heading on the next adventure.
Despite its focus on portability, this air mattress remains comfortable. Its heavy-duty PVC coil construction makes it strong enough to withstand rough terrain, too.
8. Sea to Summit Comfort Light Air Mattress: Best Lightweight Air Mattress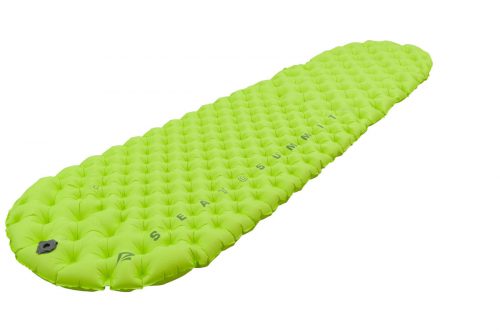 Sea to Summit's Comfort Light Air Mattress is everything it claims. It keeps you warm and is our best pick for the lightest air mattress. At just 620 grams, these slim, oblong mattresses are one of the lightest options on the market, and the size and other features ensure that it remains an appealing choice for hikers and campers.
The bottom of the air mattress is made for traction on the open ground so that it will not slide around during the night. The array of air pockets trap your own body heat for a cosier rest on the chilly ground so that you don't find yourself shivering in the dark during the early hours of the morning.
Sea to Summit builds Comfort Light Air Mattresses with nylon blends. It is also treated with antimicrobial agents to prevent mould growth.
The lightweight model also comes in vibrant colours, so it is an excellent choice for customers packing for a long outdoor trek who can shoulder the cost.
9. Wanderer Kids Air Mattress: Best Air Mattress for Children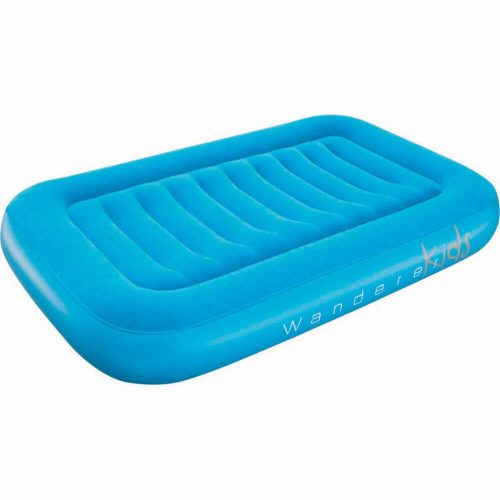 Wanderer has managed to build a child-friendly air mattress that is well-suited for any occasion. A major benefit is that parents will not have to break the bank to afford this bed like so many other air mattresses that their children will eventually outgrow.
These bright, fun air mattresses feature raised sides like a camping version of a toddler bed. It prevents children from flopping out during the night (or onto other sleepers).
Even though it is designed for kids, this model is still made with comfortable velour to encourage a comfortable sleep. It is light and compact and easy to use. The children can even help inflate, deflate, and pack their own gear.
Heavy-duty PVC provides good durability, and it is suitable for camping trips. However, since it is made for energetic children, the air mattress includes a handy repair kit in case of accidents.
10. Aerobed Extra Comfort High Mattress: Best Air Mattress for Everyday Use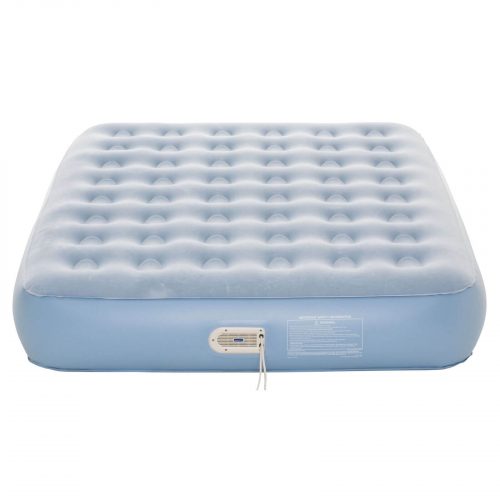 If you are looking for an air mattress to replace a traditional bed for regular or prolonged use, you might consider the Aerobed Extra Comfort High Mattress. It includes a comfortable fleecy sleeping surface and an oval coil system for consistent support (similar to a traditional mattress).
The high walls give it the shape of a traditional bed and make it easy for a sleeper to get on and off the Aerobed Extra Comfort High Mattress. It is also reasonably priced, inflates quickly using a remote control, and is a breeze to store when not in use.
As a more long-term product, this is not designed for regular outdoor use, but it is comfortable and convenient enough to serve as a long-term bed for any visitors. You may even be interested in switching from a traditional mattress to this Aerobed air mattress in your guest room.
How to Choose the Best Air Mattress
Here are some of the factors we contemplated when presenting our Top Ten best air mattresses in Australia. As you weigh the options, consider which of these are most important to you and go from there:
Are you willing to pay extra for a more comfortable air mattress?
Would extra size or added features make up for a heavier or bulkier air mattress?
How often do you expect to rely on an air mattress for a good night's sleep?
You might also consider how you plan to use your new air mattress as you select one for your family or guests. Do you plan to take your air mattress on the road or roll it out for overnight visitors?
Bed Size, Height, and Weight
Many air mattresses advertise as a particular size but vary by a few centimetres. Pay careful attention to the exact dimensions to make sure your desired product fits the space where you intend to use it. It might also prevent taller people from dangling off the end of an unexpectedly shorter mattress.
You may prefer a double-height air mattress, which is often more comfortable and easier to access. It may also more closely resemble a traditional mattress.
If you plan to take your air mattress on a camping excursion, a lower profile and smaller overall size may be lighter and easier to pack with all your gear. In particular, campers should pay close attention to both inflated and deflated size to ensure everything fits.
If you are looking for a child-sized air mattress, several companies manufacture lines specifically designed for smaller frames. It is a good choice, especially if you are able to find an affordable option that the children can outgrow in a few years without breaking the bank.
Ease of Inflation and Deflation
Air mattress manufacturers know that you want an easy-to-use product. Air mattresses that blow up and flatten out quickly are often among the most expensive products. Built-in pumps are handy and prevent you from needing to pack a separate pump when you are on the move. However, some travel air mattresses come with a separate inflator to charge on-the-go (some varieties can even draw power from your car's battery).
Waiting for your air mattress to deflate is annoying. You may prefer a model with multiple deflation points to speed along your packing process once you are ready to pack up in the morning. Be prepared to pay a premium for this feature, though.
Material
Air beds in Australia are usually sealed with vinyl or PVC, which might be all you need in an air mattress that you intend to take camping or use only occasionally. If you want a more consistent and comfortable night's sleep, choose fleece, velour, and other coverings on the top sleeping surface. In addition to providing a softer texture, these materials prevent the mattress from sticking to your skin on hot nights and irritating squeaking noises from keeping you up at night.
If you expect your air mattress will be exposed to moisture through use or in storage, select products that have been treated with antimicrobial and antifungal agents to make sure you don't have a lot of extra microscopic bedfellows. Other protective agents can prevent mould and mildew accumulation.
Insulation
If you are a warm-weather camper, this is less of an issue, but if you intend to sleep outside on your air mattress in Australia when it is cold, look at features such as air pockets that trap body heat. It is one way that your air mattress can protect you from the elements, like the cold emanating from the ground.
You can also augment your air mattress's insulation by using gear like a foam pad, though this increases the bulkiness of your bedding material.
Air mattresses have what is known as an R-value, a measure of insulation. A good general-use mattress should have an R-value of 3 or more. If you plan to camp in frigid weather, you may need an air mattress with an R-value of at least 5.
Support and Other Features
I-beams, coils, and other pressure chambers all provide support inside the frame of an air mattress. It provides an even, supportive sleeping surface that will not droop or sag.
Air mattresses in different price tiers provide various levels of firmness control. More expensive models will have finely tuned controls, and possibly remote controls. Less expensive mattresses may lose shape after a few hours and benefit from manual re-inflation.
Other features may include built-in pillows and headboards, plus non-inflatable selling points like memory foam, pockets, and USB ports. You will need to decide whether any of these features are important to you and if some might be more of a distraction while you are trying to fall asleep (like built-in pillows).
Price
Each additional air mattress feature increases the price. There are several budget options, but you should avoid models that are cheap because of their low quality.
A more expensive air mattress might be better value in the long term if it is durable enough to withstand frequent or rough use. It will also be comfortable enough for you want to use it for yourself or your guests.
Buying a poorly-made air mattress does not provide savings if you need to replace it after only a few uses.
Check your manufacturer's warranty in Australia—the well-made air mattresses hold lengthy satisfaction guarantees, even up to a couple of years. The feature allows you to recoup the cost of a product you do not like, and longer warranties demonstrate that the air mattress maker is confident in their product and its durability.
Frequently Asked Questions
How Can I Choose a Durable Air Mattress?
Look for air mattresses with puncture-resistant material. Even if you intend to use your air mattress inside, a product designed for camping is more likely to have this feature and might be a worthwhile upgrade.
It is easiest to look for the "denier rating" of your air mattress or the materials used in its construction. It measures the thickness of textiles and fabrics, indicating how tough they are to puncture (a human hair is around 20 denier).
An air mattress does not benefit from silky, yielding material. Compare available models and look for a high denier rating to ensure you are buying an air mattress that can stand up to the elements.
What Type of Pump Should I Choose?
Built-in electric pumps are the easiest selection for most Australian users. These products are a good investment if you can afford it.
A built-in pump either plugs into the wall or operates on battery power to inflate your air mattress (hands-free). Depending on the model, your Australian air mattress may allow you to inflate to some pre-set firmness levels or offer fine control.
If you need to use an external pump, remember to factor that into the cost and storage concerns. An air mattress that relies on an external pump can still be reasonable, but it is worth buying an electric unit because the hand and foot-powered pumps are time-consuming and labour-intensive.
How Can I Avoid Wobbly Air Mattresses?
If you don't like feeling like a blob of jelly on an air mattress, higher mattresses and multiple internal coils and beams will help. It makes your air mattress more stable and less prone to shifting and wobbling.
Should I Buy a Mattress Online?
Buying on a site like ours lets you compare air mattresses and features from many different manufacturers. It is convenient, especially if you live in an area without a lot of stores.
You will be able to save money by shopping around, look for sales, and take advantage of online-only promotions. Many manufacturers offer prompt delivery, especially if you live in a major Australian city.
The only disadvantage is that you usually will not be able to test the product before you buy it. You might look for a product warranty to make sure you can return a product if you are not satisfied.
What is the Most Important Factor I Should Consider?
The most important purchasing consideration depends on your circumstances. Are you looking for a temporary bed for an elderly person or someone with limited mobility? You might need to focus exclusively on double-height air mattresses.
Are you going to be hiking through the wilds of Australia for two weeks? Look at those R-values and denier ratings.
Does your cousin crash at your place for a few nights each school holiday? A well-made budget mattress may provide the limited features you need and help you stay within your budget.
Our guide demonstrates a few of the features that you need to choose which of the best air mattresses in Australia is right for you. You're sure to find what you need for your next adventure.