The Best Bed Frames
in Australia for 2022
A good-quality bed frame is just as important as the mattress itself. Almost all mattresses require a flat and sturdy foundation to get the most out of them. Some mattresses may even get damaged or lose warranty coverage due to not using the right bed frame or not using one at all.
If you want to experience the comfort your mattress offers to the fullest, or if you think that you're not getting sufficient comfort out of your mattress, you've come to the right place. For today's article, we've selected our favorites from a wide variety of bed frames for all mattress sizes, and we're going to give you the rundown for all of them.
The Top 8 Best Bed Frames for Australia – Reviews
Bed frames come in different models and styles, and there are various kinds that are made out of different materials. Even if you know the style you're going for, it's easy to get lost in the choices available. While some bed frames simply serve as a foundation for your bed, others can do other things like making your bed firmer or providing storage space.
Some bed frames even offer advanced ergonomic features like cable management for when you're charging your phone at night or a device holder to place your tablet on as you're falling asleep! If that piqued your interest, read on, as we'll tell you all about the best bed frames with the best features on the market!
1. Koala Timber Bed Base - Best Frame Overall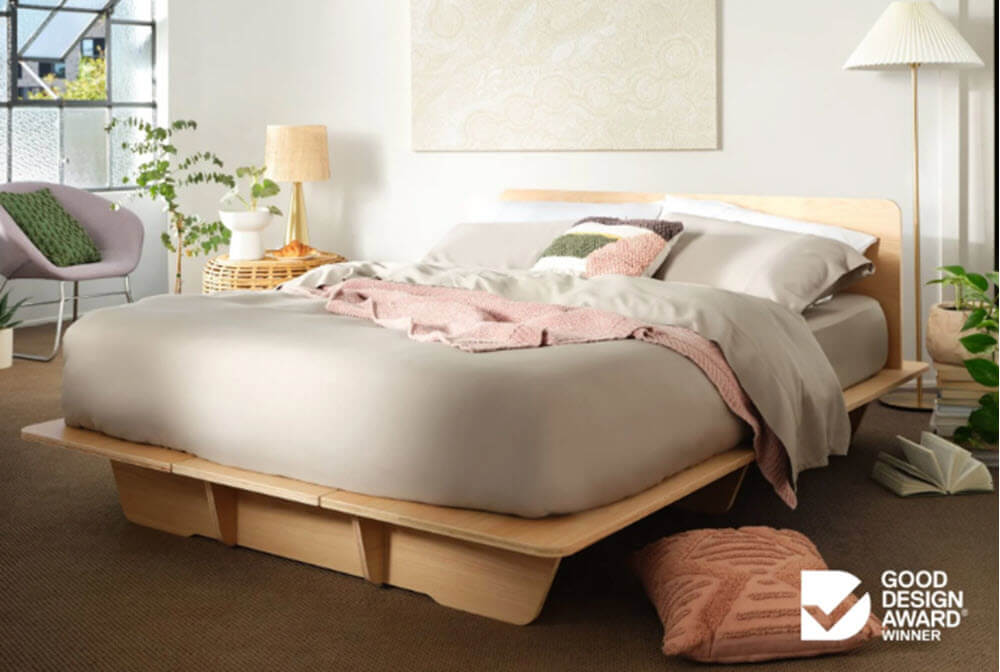 If you're looking for the best bed frame, and if chicness is a priority for you, one of our best-looking and best-performing options today is the Koala Timber Bed Base. It even won the Good Design Award in 2017, which means that it's not just good-looking but also eco-friendly.
Made from solid timber, The Timber Bed Base was designed in Sydney. There's a size option for almost all regular size mattresses, and it comes in single, king single, double, queen, and king sizes, with a starting price of $690.
One of the best things about the Koala Timber Bed Base is how easy it is to assemble. Moreover, the bed base is easy on the eyes and feels sturdy, but it's a bit lower than a regular bed. If you like to sleep on a higher bed, you may like some of our other recommendations.
Despite the solid timber material, the inner honeycomb structure creates a lighter bed frame. However, this doesn't mean that it's flimsy at all. It's a very stable bed frame, and most importantly, it doesn't make any creaking noises. The base itself is flat, which means that there are no slats. The mattress sits snugly in the frame, and the extended form factor creates an illusion of a bigger bed, which gives it a luxurious feeling.
That said, the Koala Timber Bed Base comes only in a single color option, which is Vanilla Malt. However, it's a really nice color that highlights the quality of the wooden bed frame's bold, yet elegant design.
Speaking of design, it's clear that the Koala Timber Bed Base was also designed with functionality and convenience in mind. There are some cleverly placed holes around the head-side of the mattress so that you can tuck your charging cable away when you plug in your phone before going to sleep, for instance.
If you live in one of Australia's metropolitan areas, such as Sydney, Melbourne, or Perth, the solid timber bed frame can be at your doorstep in four hours after ordering! Additionally, if you're also looking for a new mattress, Koala offers free delivery for all orders that include a mattress, so it's good to keep that in mind if you decide to go for a Koala bed base.
To make deciding even easier, Koala also offers a 120-night trial period and a 5-year warranty. If you're on the fence about this one, considering you can get a full refund in 120 days, why not give it a try? It's our best pick, after all.
2. Eva Timber Bed Frame - Best Wooden Base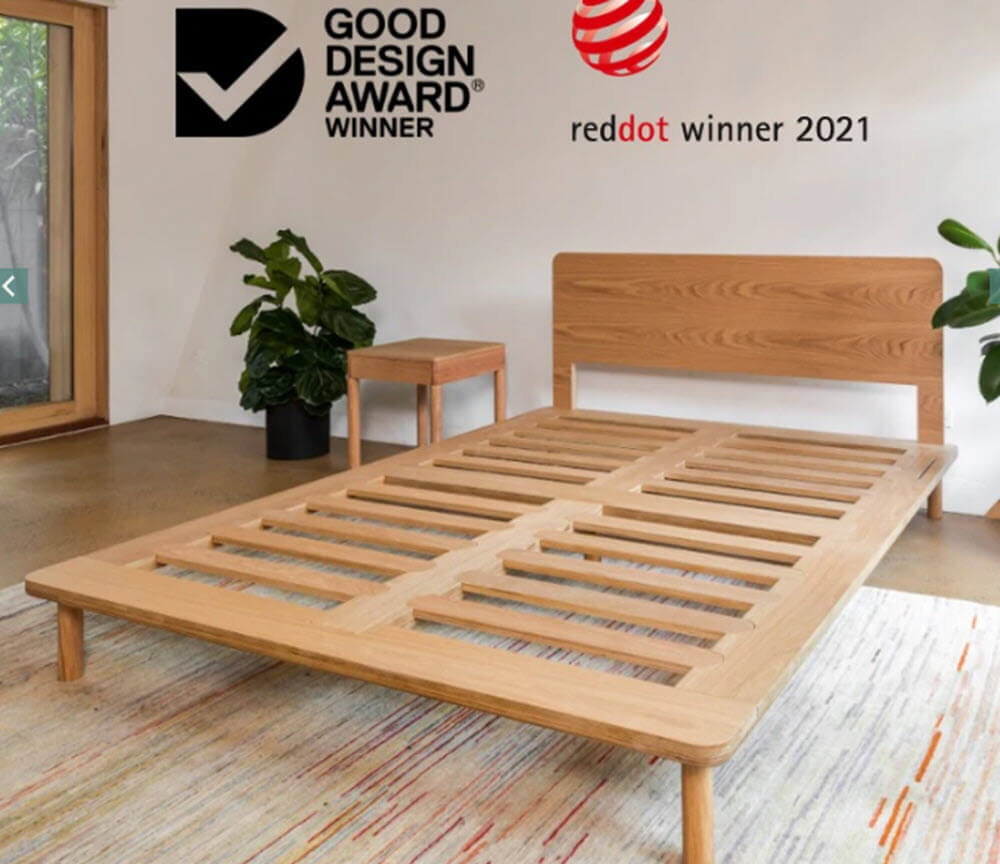 Another wooden bed frame, the Eva Timber Bed Frame, is possibly the best wooden base on the market with its convenient design, sturdy structure, and functional features. With a starting price of $900, the bed frame now has five size options: single, king single, double, queen, and king, which fit all popular mattress sizes.
The assembly is very easy and requires no tools, and all the pieces come together in a puzzle-like, satisfying way. The material used is birch ply enforced with American oak, which makes for a strong base that isn't heavy.
The functional design of the Eva Timber Bed Frame is definitely its strongest suit. The frame is designed so that there's space for storage underneath the frame, and the sides of the mattress even include a place to hold your phone or tablet. We have tried it with a thin laptop too, and it totally works!
The Eva Timber Bed Frame has also won a Good Design Award for its eco-friendly design and the Red Dot Design Award in 2021 for innovation.
Unlike the Koala bed base, the Eva Timber Bed frame is a slatted bed frame. The wooden slats fit perfectly into their places, and the space between the slats is reasonable enough to support most mattresses on the market.
One potential downside to mention about the Eva Timber Bed Frame is its short height, but of course, this is a style choice. The minimalistic look of the frame goes very well with its wooden finish. However, due to the natural material, each Eva Timber Bed Frame may have a slightly different color, as the color of solid wood materials naturally varies, which isn't a bad thing at all in our book—you'll have a unique bed frame!
Eva offers a 120-night trial period where you can get a full refund, while the next-day delivery service is free. Everything comes in a box, and the base can be assembled in no more than five minutes. Thanks to the clever design, the process is much simpler than that of IKEA furniture, for instance. While the instructions are non-existent, there's absolutely no need for them as you can clearly tell which pieces go together.
Once assembled, all the pieces fit perfectly, so the mattress doesn't wobble or make squeaky noises, which is a common problem with wooden bed frames.
As it's a winner in pretty much all aspects, it's safe to say that if you're looking for the best wooden option currently on the market, the Eva Timber Bed Frame is definitely the right bed frame for you.
3. Emma's Design Kyoto Bed Base - Best Minimalist Bed Frame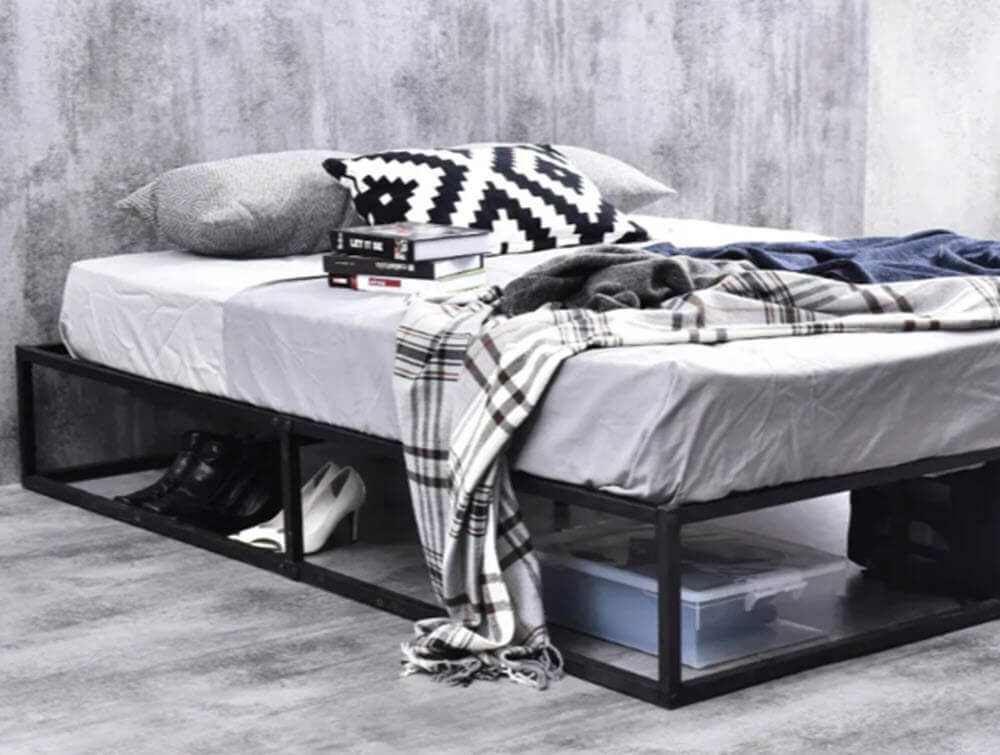 As our best minimalist pick, the Emma's Design Kyoto Bed Base is a great choice whether you're a pragmatist or looking for a modern or avant-garde look. This is also a very affordable choice as the starting price is only $299 for the queen bed frame, so you don't have to break the bank looking for the right bed base.
Again going with the minimalistic vibe, the Kyoto bed base only comes in queen and king sizes. The only color option is black, and it feels like that's the perfect choice for the metal design anyway. The material used is a strengthened metal to ensure sturdiness, and the beams that lay across the bed base should provide sufficient support for any regular mattress. The added legs in the middle of the mattress also help reinforce the sturdiness of the bed frame.
The Kyoto Bed Base requires assembly, and the process takes a bit longer than the wooden bed frames we have mentioned, but it's still pretty straightforward due to the minimalist design.
Unlike our other picks so far, this metal bed frame is taller and has more storage space underneath it, but it doesn't have a bedhead. This certainly creates a more open look and also allows your mattress to breathe better by having airflow under the mattress. However, if you're someone who can't do without a headboard, this may be a dealbreaker.
On the other hand, you may also see this as an opportunity for customization, as you can add a bedhead of your choosing and create a more personalized look.
Another highlight for this bed base is that it's super easy to maintain. You can easily dust it off with a dry cloth every once in a while, and everything should be fine! The warranty period for the bed frame is one year, but it shouldn't have any problems for a much longer time than that since metal is a long-lasting material.
One downside of the Kyoto Bed Base is that the delivery may take longer than our other picks so far. The company promises shipment from a partner warehouse within two to four business days, and it's unfortunately not free. If you ask us, given the affordable price point of the bed frame, this can easily be overlooked.
Finally, we have to note that returning the Kyoto Bed Base is not an option if you don't like it. You can return it only if there's a defect in the product, but one trick to work around this is to wait for Christmas sales time and buy the Kyoto Bed Base during November or December. Why? Well, the products you purchase from the company during these months are returnable for a whole year, and you can make use of this policy if you're unsure.
4. Emma Box Bed - Best Box Bed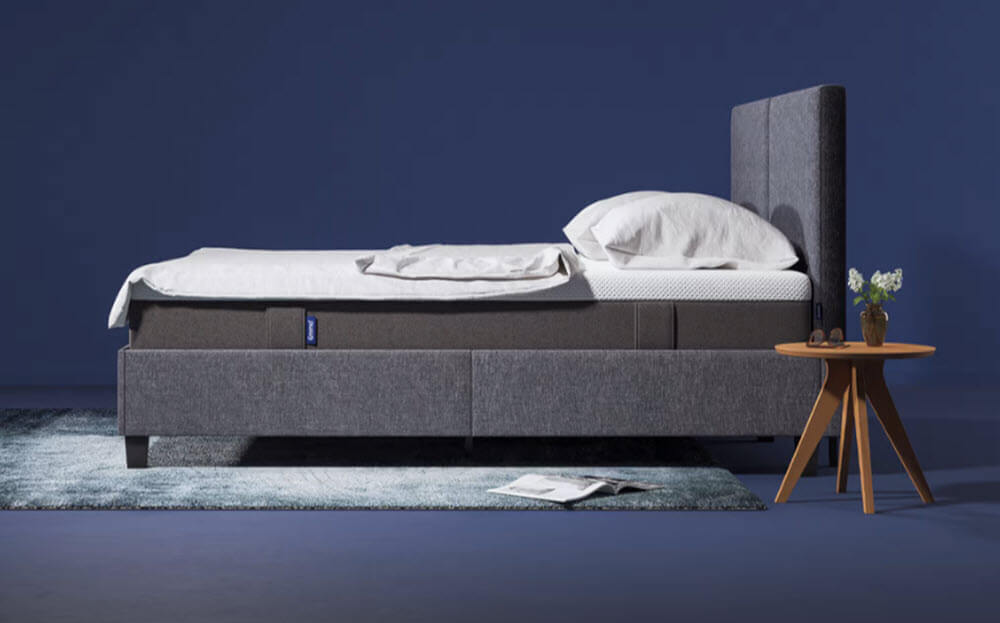 If you're looking for traditional comfort, the Emma Box Bed is a high-quality, affordable option. Designed in Australia, the Emma Box Bed combines comfort with aesthetics with its Northern-European-style look and patented technology.
It's strong and sturdy, as every good bed frame should be, and this is all thanks to the extra strong metal structure of the Emma Box Bed. The whole thing feels like a solid piece with no loose or moving parts, which also means that you won't hear any creaking or clicking noises when you move on the bed.
The company trusts the durability and the strength of this bed frame so much that they are offering a five-year warranty for the Emma Box Bed, which is a very good deal considering the starting price of $499.50 for the single beds. The box bed comes in five size options: single, king single, double, queen, and king.
The fabric upholstery covering the outside of the bed frame feels very soft to touch, and the padding inside is the perfect amount to create a cozy vibe. The upholstered bed frame has an average height, which makes laying down and getting up a no-effort affair. This also means that there's more than enough space under your mattress for good air circulation and storage. Thanks to this, the aptly named "AirFlow" foundation is able to provide extra breathability to your bed.
That being said, the real catch lies within the company's patented design, the so-called FlexiSlats. This technology allows the mattress to provide comfort on a new level while also providing great pressure relief. Combined with the support your mattress provides, the FlexiSlats technology almost acts as a performance booster for your mattress, taking comfort to the next level.
For a box bed such as this, unboxing and assembly are rather simple. All pieces come in two boxes, and you can easily assemble the bed frame all by yourself in less than half an hour. This may seem like a considerably longer process compared to the other bed frames in our review so far, but box beds have a more complex structure and therefore require more assembly.
In addition to the five-year warranty that we mentioned, Emma also offers a 100-night sleep trial. Similar to some of the other bed frames we have reviewed, you can return the Emma Box Bed anytime within 100 days starting from the delivery date and get a full refund in 14 days after the bed gets picked up by the company.
Finally, Emma offers free delivery for all of their products, and if you're living in the metro areas, you can even have the Emma Box Bed delivered on the same day.
5. Noa Osaka Bed - Best Upholstered Bed Frame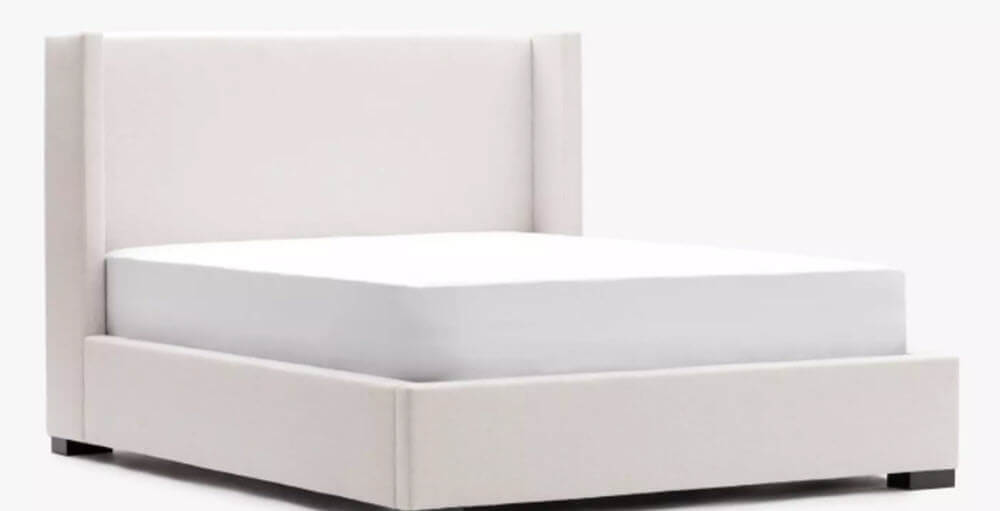 Next on our list is another great upholstered bed frame: the Noa Osaka Bed.
One of our premium choices, the Noa Osaka Bed, comes in two size options: queen and king, with prices starting from $1099, which is the queen-size bed frame. It's made from high-quality materials, and it's built to last, with a design that puts a strong emphasis on elegance. The bed frame was designed in Canada.
The Noa Osaka Bed features a hand-tufted low-profile headboard which creates a very welcoming vibe with the vintage feeling it gives off. It definitely complements the modern look of the bed by adding a little contrast to the mix.
The upholstered sides of the fabric bed frame feel thick and nicely padded. It feels so pillowy that rubbing against the sides doesn't hurt at all as you're getting in and out of bed. The textured polyester fabric feels nice and soft as well—so nice that you'll even reconsider using bed sheets at all!
The Noa Osaka Bed is a slatted bed frame and requires assembly. The company doesn't offer an assembly service, but you can assemble it yourself by following the simple instructions or have it assembled by a professional of your choice.
Compared to some of our other picks, the assembly requirement is a downside of the Noa Osaka Bed, but don't let that scare you away. The premium materials it includes, the comfort it offers, and its chic design make it worth the wait.
Moreover, the Osaka Bed comes with a one-year warranty, just in case a factory defect shows up later, or a minor assembly error snowballs into a damaged bed frame. However, we should note that the warranty does not cover wear and tear that may occur due to daily use.
In case you get buyer's remorse afterward, in addition to the protection you get with the warranty, you also have the option to return the Noa Osaka Bed in 30 days and get a full refund. It's unfortunate that you can only return the product if it's unopened and unassembled, but at least it's better than nothing.
It takes one to ten business days for the Noa Osaka Bed to be delivered, and the shipping is free since Noa offers a free shipping service on all orders on their online store. If you're also considering getting a mattress, you can order both and have them delivered for free.
We'd also add that the Noa Mattress is truly the best mattress for the Noa Osaka Bed, but, of course, you can use it with any type of mattress that supports a slatted base. Thinner beds like futons are not recommended for use on the Noa Osaka Bed as the slats can't provide sufficient support on their own, and futons don't have enough structural integrity.
6. Noa Venice Bed - Best Retro Look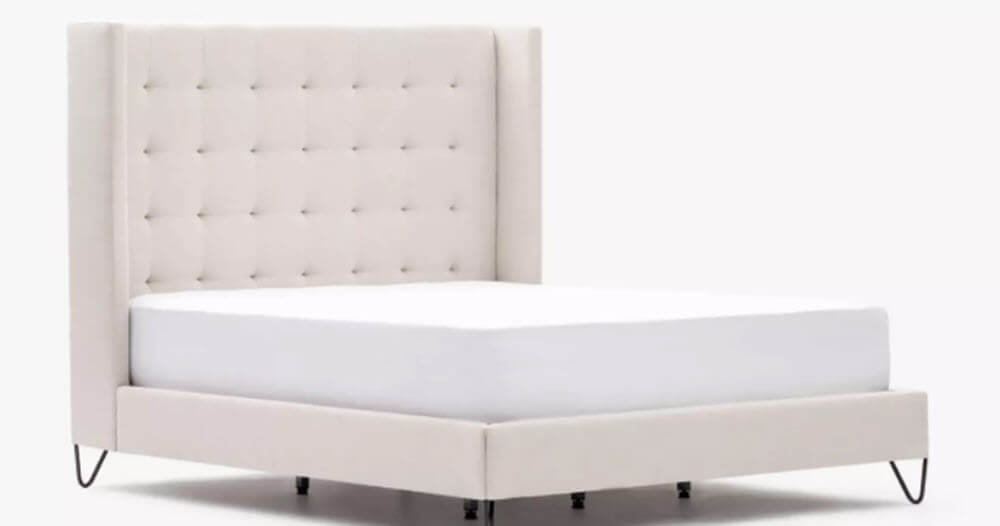 Here we have another bed by the Australian company Noa Home. The Noa Venice Bed is another upholstered bed we're going to take a look at, and right off the bat, you can tell that the beautifully tufted headboard is the star of the show. It brings the whole look of the bed together and gives it a cool retro look.
Like the Osaka Bed, the Noa Venice Bed comes in queen and king sizes as well, and the starting price is $999, which is the price of the queen Venice Bed.
Noa's Venice Bed comes in two colors: beige and charcoal, and you can't really go wrong with either, as both color options look really nice. It has four angled metal legs on each corner, which give it a stylish look.
Underneath the bed, there are six additional legs that truly give the bed the support it needs. This is a nice solution that compromises neither the looks nor the functionality of the bed base.
The corner legs are made of steel, and despite their thin look, they're actually quite strong. The black powdered coating creates a matte but pleasantly textured finish, which resembles the retro-modern look of the '50s and the '60s art deco furniture.
Since this is a slatted bed base, again, it's recommended to use the Venice Bed only with a suitable mattress. That said, the slats provide sufficient support, and the spacing between makes the bed compatible with most mattresses on the market.
The height of the bed is neither tall nor short, and it's at a perfect height that you may be accustomed to at hotels. The headboard, however, is quite long. It's definitely a stylistic choice, but if it's not the look you're going for, the Noa Osaka Bed with the low-profile headboard, which is in a slightly higher price range, may be the better choice.
Everything comes in three boxes, and assembly is required in order to use the bed. Again, you have the option to have it assembled by a professional, or you can do it yourself if you have the time. It only takes about an hour at the most, and the instructions are simple enough to follow.
Just like the other Noa Home products on our list, the Noa Venice Bed also comes with free shipping, and the bed frame is delivered in one to ten days. Of course, the one-year warranty coverage and the 30-day return period for unopened packages still apply to the Venice Bed as well since it's also a Noa product.
7. Ergoflex Bed Frame - Best Customizable Bed Frame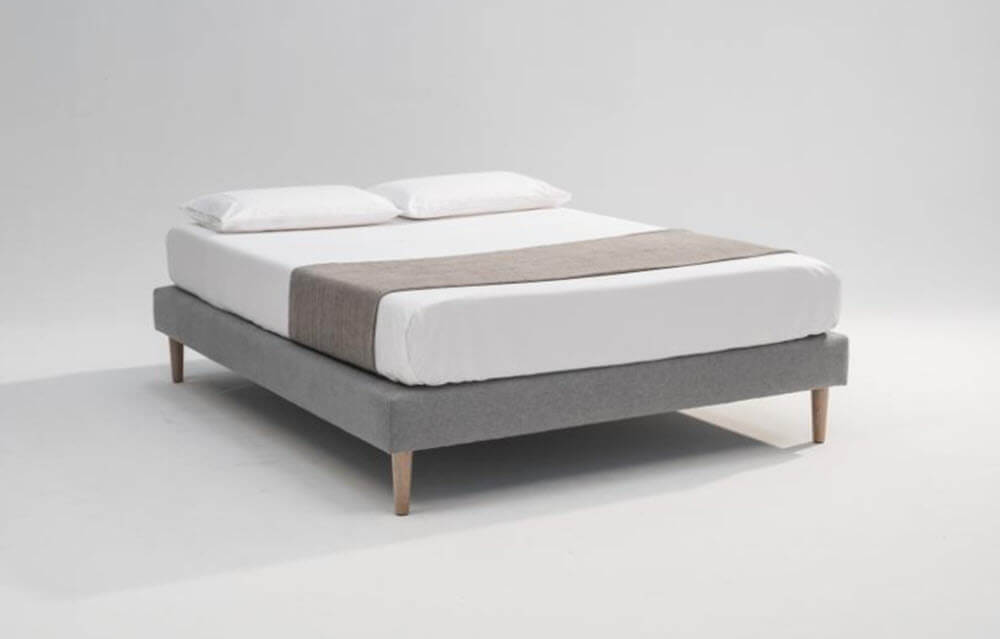 Next on our list is one special bed frame because it's custom-made. The Ergoflex Bed Frame is a hand-made customizable bed that's made in Australia.
This premium bed frame is available in five size options: single, king single, double, queen, and king. Upon selecting the size of the bed frame, you get an option for a low foundation or a high foundation, which means that you can choose to have free space under your bed for easy cleaning and extra storage.
After picking the foundation height, you get four options for the headboard, or you can choose to have no headboard at all. There are low-profile and high-profile options, and you can even choose a buttoned one.
For the fabric colors, you have over 30 options to choose from, and they're all so masterfully selected that it's honestly very hard to pick a single one. In addition to the fabric color, you have the option to pick either dark or light-colored legs, and your customization is complete!
The outside of the Ergoflex bed frame is hand-upholstered and made of premium Warwick Fabrics. The selection of four different fabrics is all premium quality, giving the bed frame a truly luxurious feel.
The wood materials that are used in the Ergoflex premium bed frame are pine that's reinforced with heat and victorian ash hardwood. Combined with the fine fabrics and the hand-upholstery, this bed is not just a functional item but a quality piece of bedroom furniture that's made to last.
Delivery of the bed frame is free and can take anywhere between 9 to 12 weeks due to it being custom and hand-made. Ergoflex also offers a white-glove delivery service that includes professional assembly of the bed frame, which makes the whole process hassle-free.
The warranty for this luxury bed frame lasts for five years. Compared to our other picks in this article, that's a great promise, and the warranty covers any defect that may occur due to a manufacturing error or bad material. While the warranty is great, the bed frame is custom-made, so the company doesn't offer returns.
The last thing to mention is that since this is a custom and handmade product, it's in a higher price range, and the prices vary vastly as there are so many customization possibilities. However, you're at least sure to get your money's worth. Besides, if you get a mattress from Ergoflex along with your bed frame, you'll be getting a big discount and can save 45%. That's too great of a deal to sleep on!
8. Zinus Suzanne Industrial Bed Frame - Best Budget-Friendly Bed Frame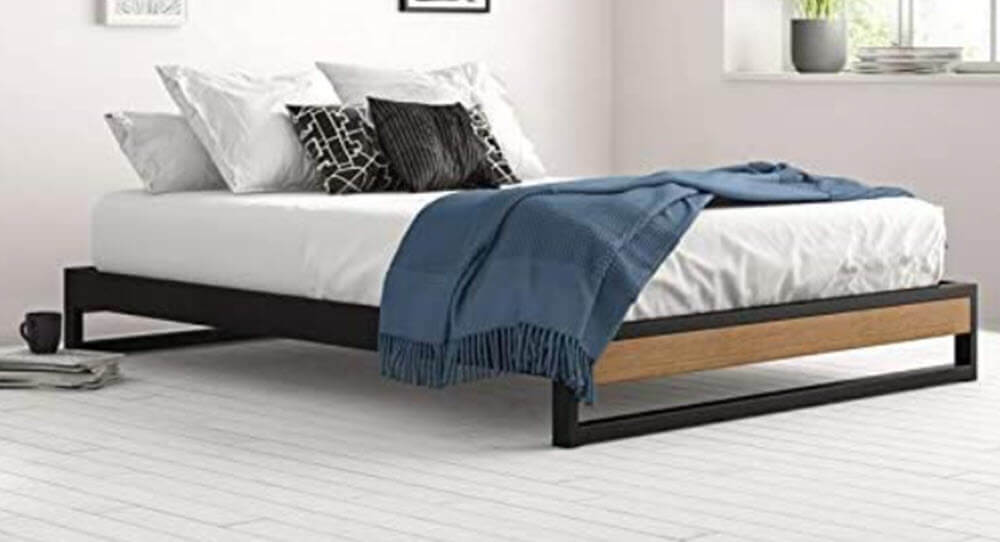 Finally, our last pick is another Good Design Award winner— the Suzanne Metal and Wood Industrial Bed Frame. This bed frame comes in brown (natural wood) and grey (washed wood) colors, and you can select the height of the bed as well. There are three height options to choose from, which are 6", 10" and 14", and this is a big plus, considering many popular brands do not offer such options.
In addition, there are four different sizes depending on your mattress size, so you can choose from twin, full, queen, and king bed frame options. The prices start from $149 for the twin size, making this bed frame a very affordable option that also looks great.
The mix of metal and wood creates a very industrial-modern look, and it's a great choice if you're going for an artsy or stylish look. The black steel framing makes a very strong base as well. Under the steel, there are patches of foam to keep the bed from moving or squeaking when it's moved.
This is a slatted bed frame, and the solid wood slats of the bed frame are compatible with the most popular mattress types currently on the market, also providing robust support. There are pieces of tape under the wooden slats to keep them from slipping, and that's a really simple solution to a very common and annoying problem.
The footboard is also made of wood—solid pine wood, to be exact. The material feels very sturdy, and the quality of the wood really shows.
All parts of the bed frame come in a single, conveniently-packaged box. The assembly of the bed frame is as simple as it can be and doesn't require any tools, allowing you to quickly put it together by yourself in an hour. In addition, Zinus offers free shipping for all of their products, so you can get the Suzanne Bed Frame now and have it delivered to your home for free in 5 to 12 business days.
Moreover, Suzanne Bed Frame comes with a 5-year warranty that covers any damage that may occur due to manufacturing errors or defects in the materials used. We should add that the warranty doesn't cover damages that may happen due to misuse or daily wear and tear.
Lastly, Zinus has a 100-night trial policy. If you're having a hard time deciding, you can get a Suzanne Bed Frame today, start using it and return it within 100 days starting from the delivery date. You'll get a full refund after the bed frame is sent back, and all you need to do is contact Zinus and arrange a pickup time.
How to Choose a Bed Frame That Fits Your Needs
Now that we're done with our reviews let's continue by taking a look at some important points to consider when you're buying a new bed frame.
Material
Materials can make or break a bed base, literally. If it's sturdiness you're looking for, stick with metal. A good example of a metal bed frame is the Kyoto Bed Base that we mentioned in our review. However, if you're concerned with style, there are many more options that can fit different aesthetics.
Timber bed bases are great for that rustic look: try to go for a wood with a quality finish, or you can look for a walnut veneer which gives a very cozy vibe. If that's what you're going for, the Koala Timber Bed Base might be a great choice.
If you want a more modern look, a simple metal frame can do the trick. For a more conventional, hotel-like aesthetic, you can go for an upholstered bed as well. One of the best upholstered mattresses on the market right now is the Noa Osaka Bed, which just might be what you're looking for.
Height
The height of the mattress depends on your style choice as well as your preference. If you have trouble moving or simply don't like to "climb" on your bed every night, a low base is much more convenient. Moreover, a base that's too high can make getting in and out of bed challenging. For convenience, average height beds are the best.
If your concern is more about the looks, we can say that low-base beds tend to give a more modern look, whereas high-base beds have a more traditional vibe in general.
Size
When it comes to bed size, one thing's for certain: the more room you have the merrier! Even if you're sleeping alone, splurging on a king-size mattress can make you feel so much better than you'd think. We spend a good amount of our lives sleeping, and a big mattress should not feel like a luxury.
However, not everyone buys a mattress and a bed base at the same time. At the end of the day, if you already have a mattress, you need to get a bed base that fits. Getting a bed base that's too big for your mattress can make for a very uncomfortable sleeping experience, as the mattress may constantly move around.
Style
Everybody's style is different, and after all, a bed frame is a piece of bedroom furniture. That's why it's important to find a bed base that matches the look of your whole bedroom.
If your room has a modern look, a low base, metal, minimalist bed frame like the Kyoto Bed Base can be a great choice. The lack of a headboard and a footboard certainly adds a more open feeling to the room as well.
However, if your style is more on the retro side, upholstered bed frames with buttons on the headboard, such as the Noa Venice Bed from our selections, usually have that retro feeling that we're so familiar with. A long headboard can also help create a more grand and luxurious look.
Budget
This may be the most important thing to consider because not everyone wants to or needs to spend a lot of money on a bed frame.
A simple metal and wood frame that has a minimalistic look can come at a very affordable price while providing chicness as well.
Upholstered beds and box spring beds tend to cost more, so if you're on a budget, going for a solid metal bed frame is your best bet. You can check out online-only retailers for the best prices. Since they don't have physical stores, they can offer much more affordable prices.
Storage Space
If you're living in a small apartment, you know that storage space is golden. While low base bed frames are good-looking, if you're low on space, they are not the best option.
You can go for a metal frame that has a high base. Those usually have completely empty spaces under them where you can put away your storage boxes, shoes, etc.
Another great option is a gas lift frame that lifts up to open storage space under the bed. Brosa's Queen Size Gaslift Base is a great popular gas lift bed frame you can check out.
Frequently Asked Questions
What Kind of Bed Frame Is the Strongest?
Upholstered bed frames and metal bed frames are among the strongest, but you should also consider whether to go for a flat or slatted base. Slatted bases can be strong, but at the end of the day, nothing beats the strength of a completely flat platform bed frame. 
Additionally, you may want to skip using box spring bed bases and bases that include MDF as well since they're not known for their durability against force.
However, the strength of the frame actually has more to do with the materials used rather than the type of the bed frame.
Which Material Is Best For a Bed Frame?
If you're looking for strength and sturdiness, the best option is to go for beds that include solid wood and metal pieces. For example, steel is a very strong material you can easily rely on that is popularly used in bed frame production.
How Can You Tell If a Bed Frame Is Good Quality?
There are a few tells of a bad-quality bed frame, and these include:
Creaking and noises when the bed is moved,
Parts that bend when weight is applied, and
Parts that feel loose or move easily.
In addition, make sure to check the materials used for the bed and try to go for an option that uses steel. 
What Kind of Bed Frame Is Best For Heavy People?
Since bed frames usually have a weight limit, using a standard bed frame if you're overweight can end the bed frame's warranty coverage as well as cause damage over time. 
In this case, it's best to go for bed bases that are specifically made for overweight people, that have extra legs and are made of stronger materials.
Is Pine Wood Strong For Bed Frame? 
While it's obviously not the strongest material, pinewood is still a very strong and durable type of wood. It's commonly used in bed frames, and it's an affordable material that can easily be processed.
Is It Better to Have Your Bed High or Low? 
Low beds are great for creating a more open space. If you have a small bedroom, a low bed can make the room bigger. If your room is big and tall, however, a high upholstered bed with a tall headboard can really bring the whole look of the room together.
On the other hand, for practicality, your bed height should be proportionate to your body height. We also should add that for small children, a low bed may be more useful for easily getting in and out of bed, and children can roll off the bed while sleeping too.