Best Mattress
For Bad Backs
in Australia 2022
Do you wake up sore and stiff in the morning? Are you having trouble sleeping due to insupportable back pain? The key to a good night's sleep and the cure for a bad back often lies in a quality mattress. We often neglect the importance of our sleeping surface when, in reality, the level of firmness, support, and comfort we get from our mattress is directly linked to how fresh and rested we feel at the start of our day.
As there are no chiropractors or orthopedic specialists in our team, we always advise our readers to consult their physicians for personalized medical advice if they're feeling any pain or discomfort. However, we still want to stress the importance of sleeping on a top Australian mattress not only for proper back support but for your overall wellbeing as well.
With that in mind, let's take a look at our top ten mattress reviews for bad backs.
The Top 10 Mattresses for Bad Backs in Australia
1. Koala Mattress — Best Mattress for Bad Backs & Best Value For Money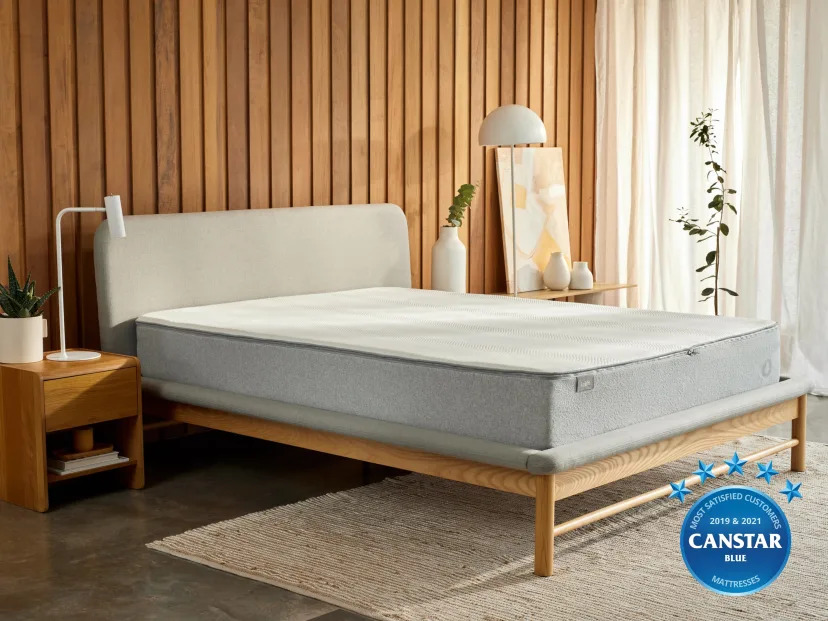 Get $75 off your order by signing up to the Koala newsletter.
With over 39,000+ 5-star reviews and being Australia's #1 most awarded mattress, it's very clear that Koala deserves our top spot. Side sleeping has a number of advantages such as a decreased risk of acid reflux, lower chances of snoring, and lower chances of back and neck pain in the morning. However, if you don't have the right mattress and struggle with back problems, sleeping on your side can cause more harm than good.
Since this is a common sleep position for a lot of adults, there are a number of mattresses that are tailored to side sleepers' needs. In our search for the perfect mattress, we were looking for a plush surface that would let your pressure points sink into the bed and help you maintain a neutral spine alignment at the same time.
In the end, we settled on the Koala mattress, the 2016/2017/2018 winner of Good Design Australia. The company is B Corp-certified which means it helps the environment with its business. In Koala's case, they donate at least 1% of their annual sales to environmental charities.
The Koala mattress is made of their signature Kloudcell breathable open-cell foam that allows the heat to escape your bed and an Ecofoam support layer of ultra-resilient foam ideal for back-pain sufferers. There's also a Tencel top cover that's removable and washable.
Even though it combines high-quality Australian materials, this mattress doesn't cost an arm and a leg. You can purchase a Queen mattress for around $800, have it delivered in under four hours, and get a 120-night trial with a full refund option. Koala has a 10-year warranty like most mattresses.
2. OneBed Mattress - Best Memory Foam Mattress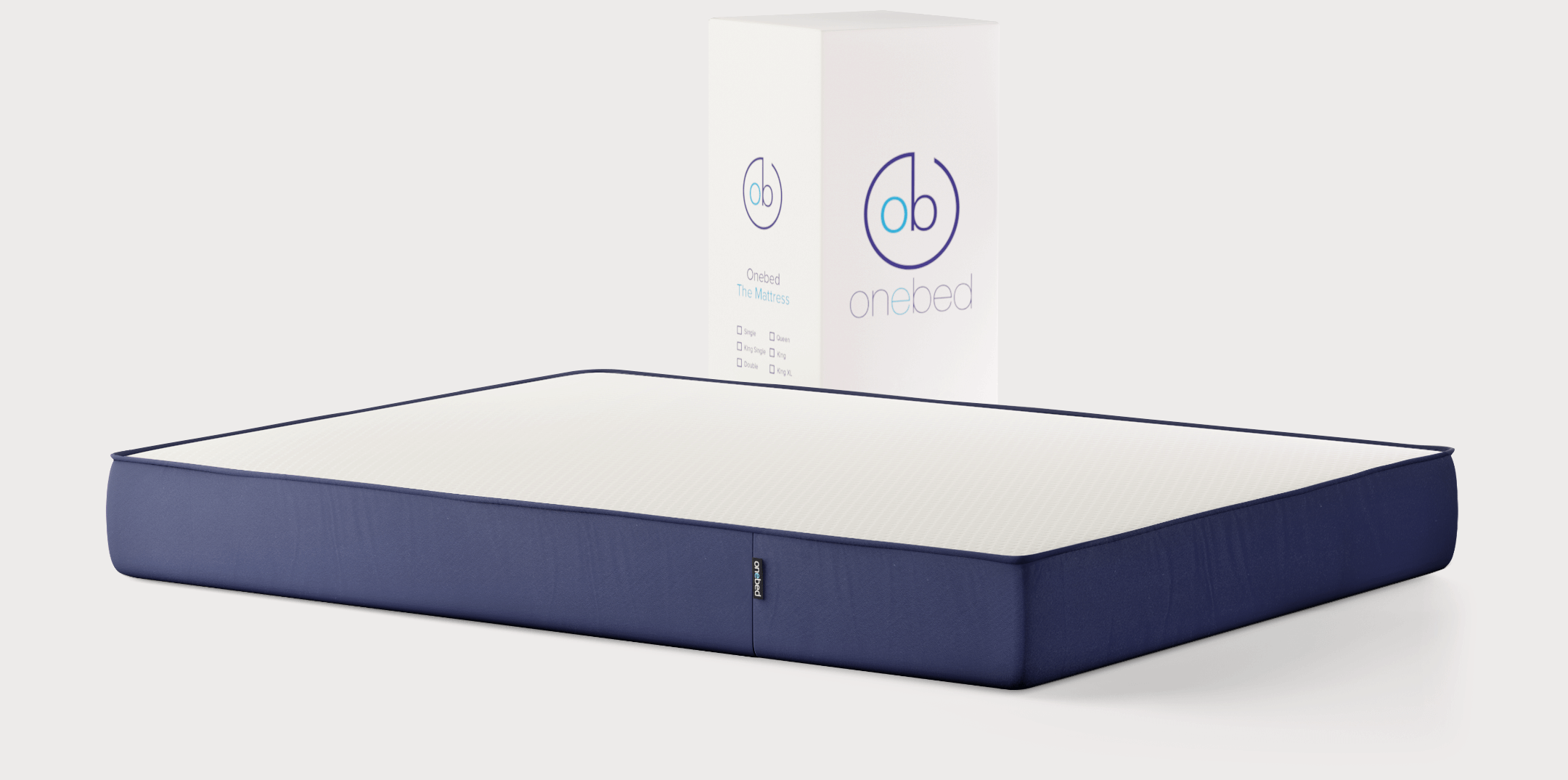 Memory foam became the most popular mattress material because it can easily adapt to your shape and mold to match the outlines of your body as you move throughout the night. Every time you lay down and compress the mattress, the memory foam hugs your body and provides pressure relief to your aching body parts if you have any.
However, despite its many advantages, for some people, a memory foam mattress can be too soft and too warm. In our search for the best memory foam mattress, we were looking for mattresses that have found innovative ways to solve these two issues.
The OneBed mattress does this by combining two layers of memory foam with one 4 cm thick latex layer on top. Latex encourages free air circulation and keeps your bed cool and fresh during the night. The viscoelastic medium-firm layer focuses on pressure points and adds softness and comfort, while the polyurethane foam layer increases the mattress's firmness and durability.
If you prefer a cozier sleep, you can change the order of your mattress layers and put the memory foam on top. The OneBed mattress comes with a machine washable cover with polyester dimples. Memory foam mattresses are also famous for their motion isolation quality which reduces the transfer of energy from one side of the mattress to the other.
The OneBed company has a 15-year warranty policy and lets you change your mind in the course of 125 nights and receive a full refund.
3. Ergoflex Mattress - Best Mattress for Back Sleepers

The ErgoFlex company is famous in Australia for being the first to launch mattresses in a box that can simply be ordered online and delivered to your home in a matter of 2-3 days. This was back in 2010 as part of the brand's mission to outperform the global mattress provider TEMPUR®.
The Ergoflex 5G mattress definitely ticks all the boxes! To provide the necessary firmness and spinal support, Ergoflex was designed with a 9 cm bottom layer of high-resilience memory base and a 9 cm top layer of viscoelastic memory foam that traces the contours of your body. In between comes the Cool-Sleep Airflow layer that regulates the sleepers' body temperature, perfect for hot Australian nights.
With a thickness like this, the Ergoflex mattress is the ideal supportive surface for people struggling with back pain and muscle or joint complaints. It also has two different mattress covers: a luxurious outer TENCEL® cover and a micro-fine inner cover to protect the inside layers.
However, before you decide to try this mattress, you need to be aware of two things. First, the price of the ErgoFlex mattress – approximately $1,500 for a Queen bed – is on the higher end of the scale compared to its competitors, but it really is worth its weight according to customers. Second, the trial period is only 30 nights unlike the industry average (100 nights).
4. Sleep Republic Mattress — Best Hybrid Mattress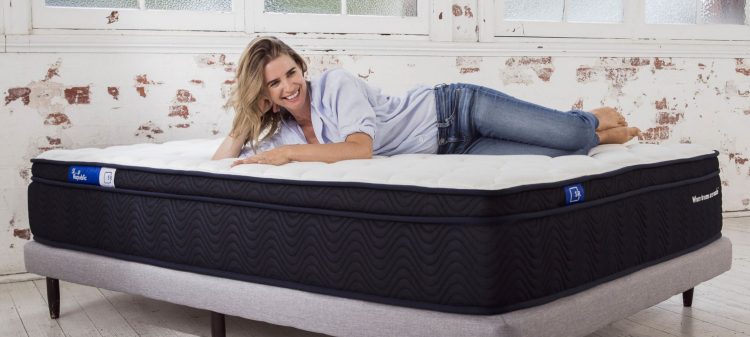 The Sleep Republic brand has been in the mattress business for more than 20 years, upgrading and refining their products to perfection. The Sleep Republic mattress even won the "Best Overall" mattress in a box 2020 award by Bed Buyer based on the following criteria: comfort, spinal support, build quality, partner disturbance, and value for money.
The secret of this hybrid mattress lies in the congruous combination of three different comfort layers: a natural latex layer on the bottom for enhanced breathability and unobstructed airflow, gel-infused memory foam for pressure relief and deep contouring, and a cushy cashmere cover on top that gives this mattress an unsurpassed visual appeal.
But wait, there's even more to it! The Sleep Republic mattress features 2,250 high definition pocket springs that provide support across 5 body zones that target your back as well and minimize partner disturbance. Finally, the dynamic steel spring edge support will keep you stable throughout the night.
Reviewers on ProductReview.com.au were impressed by the way this mattress has improved their sleeping experience and reduced their back pain over time. The only complaint we could find was about the lack of handles that would make it easier to carry the mattress around.
If you order your Sleep Republic mattress now, you'll have it delivered within the next 24 hours. You get a 100-night trial and a 12-year warranty that gives you plenty of time to return it in case you change your mind.
5. Sleeping Duck Mattress — Best Mattress for Stomach Sleepers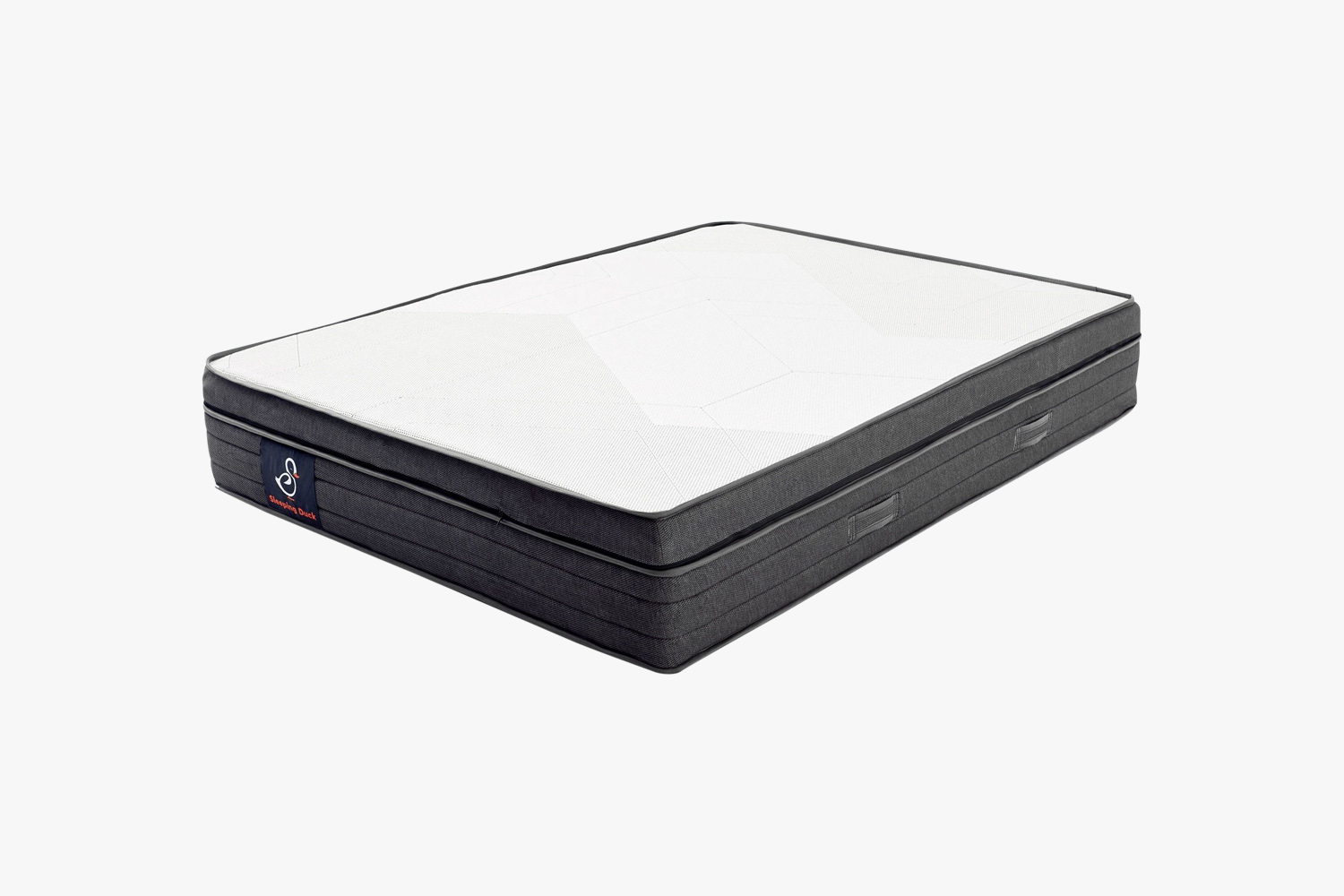 We all know how comfy it is to sleep curled up on your stomach. However, in this position, your spine's natural curves get flattened, and if you don't have the right mattress to support your body and provide pressure relief, you'll cause unwanted back pain.
Luckily, we know just the mattress for all the tummy sleepers among you. The Sleeping Duck mattress has had a top-rating on CHOICE, Australia's leading consumer advocacy group, three years in a row, and has won numerous awards including one from Good Design Australia. Moreover, it has a 4.8-star rating on ProductReview.com.au from over 4,000 satisfied Aussies.
This mattress is made of four unique layers with different firmness levels: a Bamboo cover that wicks away moisture, the Sleeping Duck signature Hyper-Adaptive foam that's eight times more breathable than that of ordinary latex or memory foam mattresses, another layer of CEGA-approved high-density foam, and 5 zone support pocket springs.
On top of that, you can ask for layer reordering depending on your preference – do you want a soft top layer and a firm bottom layer or vice versa. If you and your co-sleeper can't come to a consensus, the Sleeping Duck lets you order a medium-firm mattress with different halves as well! All in all, the mattress promises durability, customization, and cushioning, qualities that every stomach sleeper should look for in a mattress.
You can order this mattress in a box in five different sizes: Single, King Single, Double, Queen, and King.
6. Neoluxe Vantage Silver — Best Luxury Mattress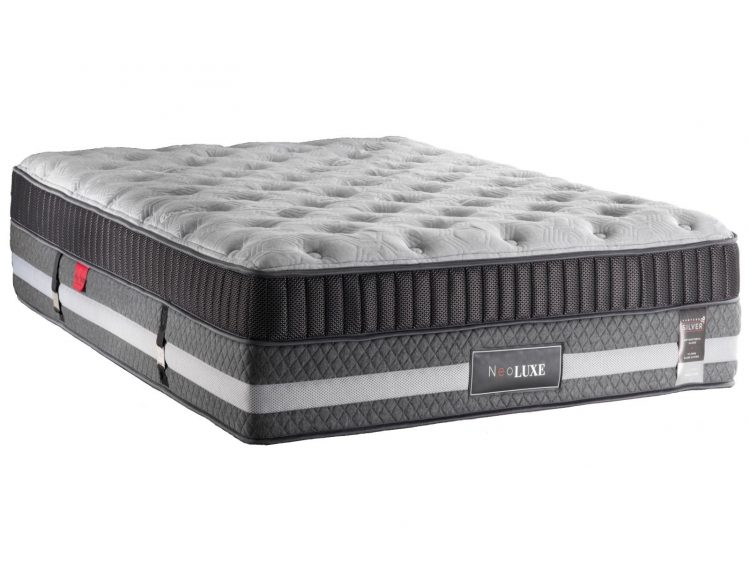 If you're looking for a top-of-the-line mattress and don't mind spending a pretty penny on luxury and ultimate comfort, we recommend checking out the Neoluxe Vantage Silver mattress, one of Australia's finest and most sophisticated mattresses that you can order on Beds n Dreams for around $3,000.
There's no doubt that this mattress and its high-quality materials exhibit real craftsmanship and luxe. The top layer features the Silverline™ fiber thread that performs a protective antibacterial function as well. Next comes the Italian SilverForm Comfort foam, a high-density foam infused with real antimicrobial silver particles.
The most impressive thing about this mattress, however, is the outstanding 12 zone spring system with dual-layered construction that supports and contours every single pressure point including the ones you didn't know you had. It's great for any sleeping position and customers of all sizes and ages. You can order the mattress in a firm, plush, or ultra-plush version.
7. Ecosa Mattress — Best Mattress for Kids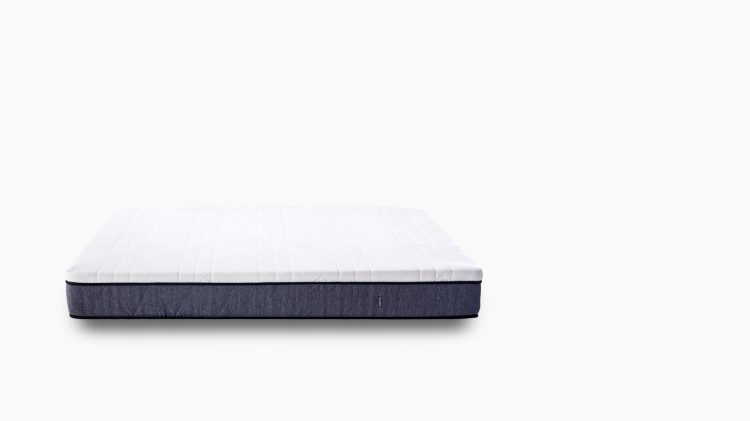 Quality sleep is even more crucial for children because it contributes to their physical and mental growth process. When choosing a mattress for your child, you should take into account things like pressure relief, temperature regulation, protective cover for unwanted spills and bedwetting, firmness, and edge support.
Our choice for the best kid-friendly mattress is the Ecosa mattress which consists of five practical and comfortable layers. The mattress has a G-7 gel-infused memory foam with gel crystals that keep the bed temperature at bay. There's a second layer of ergonomic support foam in charge of back support and motion transfer and a third layer of breathable ECO-Tex foam with open cells that help disperse the heat.
The best thing about these layers is that you can change them as you like based on whether you'd like a softer or a firmer surface on top. The last two layers of the Ecosa mattress are its inner and outer cover. The inner cover is waterproof and dust mite-free, while the outer Tencel cover protects the mattress from stains and spills. Just zip it off and put it inside your washing machine.
The Ecosa mattress has a 100-night trial and a 15-year warranty. We also liked the fact that the company donates any returned mattresses.
8. Sommuto Mattress — Best for Hot Sleepers

The Sommuto mattress is an Australian-made product designed to help Aussies survive the scorching summer heat. Say goodbye to the restless nights of tossing and turning around.
The mattress is constructed with 100% local materials that have been carefully chosen for their durability and sustainability. It's perfect for those who like a softer mattress and a supportive mattress at the same time. It has three layers of foam and a breathable knitted cover on top that you can take off and wash whenever you want.
The first layer is the signature MEMair Breeze™ gel-infused memory foam that wicks away moisture and absorbs temperature. The second layer is the engineered high-resilience foam that follows the natural curvature of your spine and lets you sink into the mattress. It's followed by a third layer of high-density foam great for soreness and back pain relief that minimizes partner disturbance as well.
Overall, we really liked the Sommuto mattress and we can say that it does make a difference to people who have chronic back pain, shoulder pain, or neck pain. The only remark we have is about the slow response time of the Sommuto support team.
9. Osteo Support Mattress — Best Budget Mattress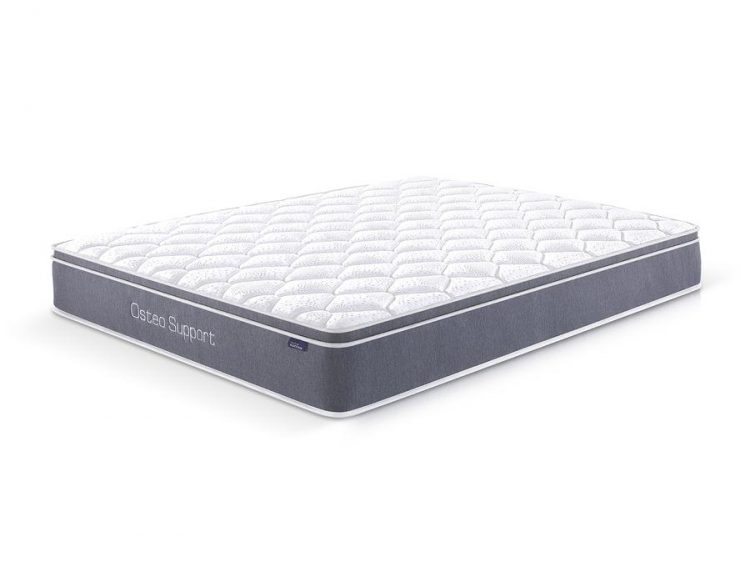 For those of you who really need to replace their old mattresses but don't feel like splurging out on an expensive new mattress, we also included a budget-friendly option that falls in the under $500 category.
The Osteo Support mattress is the optimal blend of plushness and support. It has a soft pillow-top layer with 50 mm high-density foam and perforated latex which is dust mite resistant and hypoallergenic. Unlike most support mattresses that feature at least a 5 zone support, the Osteo mattress only has 3 zones that target the shoulders and knees and help ease low back pain.
The company claims their mattress is best for back and side sleepers because it hugs and contours the shape of the body. However, in terms of firmness, it's rated as 5-6 on a scale of 10. Another drawback is its lack of edge support. On the other hand, reviewers claim it minimized partner disturbance.
Osteo allows you to try their mattress for 60 nights and have a 5-year warranty.
10. Zenna Mattress — Best Latex Mattress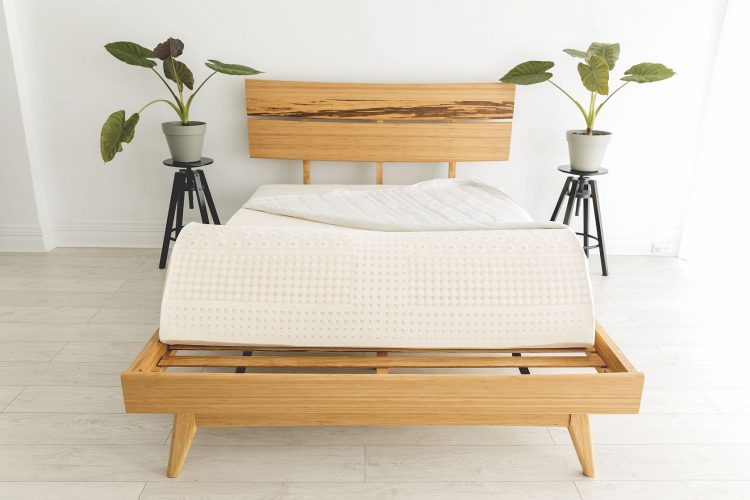 When it comes to durability and support, latex mattresses hold a higher reputation than memory foam ones. That's why, in recent years, more and more brands have been combining the two in their mattresses. Latex mattresses are also known for their above-average motion isolation and extra freshness.
One of the best latex mattresses available to Aussies is the Zenna Mattress, made of biodegradable natural latex that comes from the sap of the rubber tree and has been tested and certified by OEKO-TEX for zero harsh chemicals. The Zenna Mattress is hypoallergenic as well. These qualities make it perfect for environmentally conscious customers.
You should be aware that the mattress might be firmer than what you're used to because of the high-density latex. This rubbery feel is what keeps your body from sinking in. If you feel like this mattress doesn't suit you, and you'd prefer a softer one instead, you can return the Zenna mattress during the first 100 nights and get a full refund.
How to Choose a Mattress for Bad Backs
A lot of people make the common mistake of neglecting the quality of their sleep and paying zero attention to the type of mattress they're using. As we're not medical experts ourselves, we can only give you some recommendations and guidance on the most important qualities you should look for in a mattress if you have problems with your back.
Pressure Relief
Pressure points are areas of your body that feel uneasy or painful when you lay down. Typically, these are the parts that stick out and have more bones including the knees, shoulders, neck, and back. To take the pressure away from these areas, you need a pocket spring mattress that helps distribute the pressure evenly and provides greater support. When talking about materials, memory foam is your pressure points' best friend.
Spinal Alignment
The thing that's going to help your back pain the most is keeping your spine in neutral alignment. That's why we recommend a medium-firm or firm mattress because they're best at supporting your natural body curvature. Extra tip: if you're a side sleeper, try placing a pillow between your knees – it will do wonders for your sleep!
Firmness
While it's true that firmer mattresses are better for back pain, many sleepers could still feel uncomfortable because they prefer softer cushioning surfaces. The good news is that if you weigh less, soft mattresses will still be able to support your body frame. Moreover, nowadays you can purchase an online mattress and get a 100-night trial to decide whether you like their firmness level or not.
Frequently Asked Questions
What's a mattress in a box?
When you buy a mattress online, the company compresses and rolls up the mattress so that it can fit into a cardboard box and be delivered to your doorstep. That's where the name 'mattress in a box' or 'bed in a box' comes from. When you receive the mattress, you simply need to unbox it, unroll it, and wait for it to reinflate.
In this digital era, the 'mattress in a box' market is quickly gaining traction. Say goodbye to the exhausting showroom or store visits that went for days on end. However, this is not the only advantage of these mattresses. Online mattresses tend to be cheaper than the ones you buy at the store because they take the middleman out of the story and automatically reduce the costs.
Plus, most manufacturers offer generous sleep trials that typically last between 100-125 days. During this time, you're free to change your mind and return the mattress with a full refund. Usually, companies donate the returned mattresses to local charities or resell them to employees at a steep discount.
What's the difference between a pocket spring and an innerspring mattress?
Most people are familiar with innerspring mattresses that have a network of interconnected coils so when you apply pressure to the mattress, all the springs react together to relieve that pressure and respond to your body movements. On the other hand, pocket spring mattresses have individually wrapped pocket coils in the material and each one of them moves independently under pressure. The higher the number of pocket springs, the better the mattress. Pocket spring mattresses are therefore better at relieving pressure and are more suitable for back-pain sufferers.
What kind of mattress is best for different sleeping positions?
You should always pay attention to the firmness of the mattress and its materials and choose them based on your sleeping position. If you want to get your ZZZs on your side, you need a medium-firm mattress with a deep comfort layer on top and a pocket spring support structure with pushback that won't let your hips and shoulders sink too deep into the mattress. Back sleepers need firmer mattresses that can hold their spinal alignment in check, while front or stomach sleepers should opt for a softer mattress that excels at providing pressure relief.
Should I purchase a mattress topper if I have lower back pain?
If your sleep quality is very low but you can't spend your savings on a new mattress, you can purchase a mattress topper instead. These toppers are used to provide extra comfort and support to new mattresses or revitalize older ones. Depending on their materials and fillings, they can cushion and cradle your hips, shoulders, back, and knees. This makes them great for lower back pain sufferers as they can alleviate the pain and discomfort.