Best Mattress Topper
in Australia 2023

Updated on October 31, 2023
A quality mattress topper is like a cherry on top of your mattress. It's the key to nights of restorative sleep and cozy pillow-like softness.
If you're doing some penny-pinching at the moment but don't want to compromise on the quality of your sleep, mattress toppers can be an easy fix. They can add extra firmness to reinforce support where your mattress lacks it or extra padding if your mattress is too firm. A lot of them are made with natural materials and have antibacterial qualities too.
Today, we'll be reviewing the ten best mattress toppers for our Australian readership. Each of these toppers has some unique quality that suits a particular group of sleepers and their preferences, which makes us positive you'll find your favorite.
Alternatively, if you're looking for a new mattress, you can have a look at our comparison of the best Australian mattresses.
The Best Mattress Toppers
in Australia
SPECIAL OFFER - UP TO 30% OFF
1. Ecoy ⏤ Best Overall Mattress Topper
Firmness: Medium soft (4) or medium (5)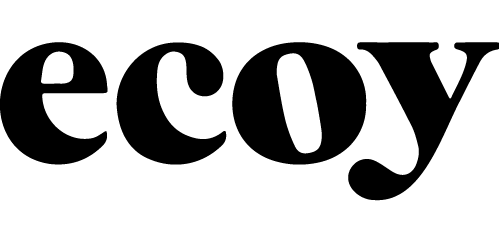 Get 15% your order using code "BESTMATTRESS"​ or bundle for 30% off
Our number 1 choice for the best mattress topper in Australia is Ecoy's bamboo mattress topper. The topper is made with 5cm of responsive memory foam covered in a removable bamboo fabric cover. After we tested this ourselves we were super impressed by the level of comfort and softness that this added to a firm mattress.
Ecoy's topper is OEKO-Tex certified, passing all the important memory foam checks you should look out for. It also comes with straps to keep the topper in place throughout the night.
We were fortunate enough to be sent a Ecoy topper and hands down it is the best mattress topper we have tried and tested to date. With any mattress topper purchase you get:
Free shipping Australia wide
30 night free returns
Ecoy is registered with 1% for the planet too so your purchase will go towards protecting the planet
So, if you are looking for the best value for money, mid-range mattress topper, you won't find a better option than Ecoy. The topper is currently available in single, king single, double, queen, king and super king. Prices start from $250. 
For a limited time, Ecoy is offering 30% off all bamboo mattress topper and bamboo mattress protector bundles. 
You can also use the code "BESTMATTRESS" for an extra 15% off.
2. Peace Lily ⏤ Best Latex Rubber Mattress Topper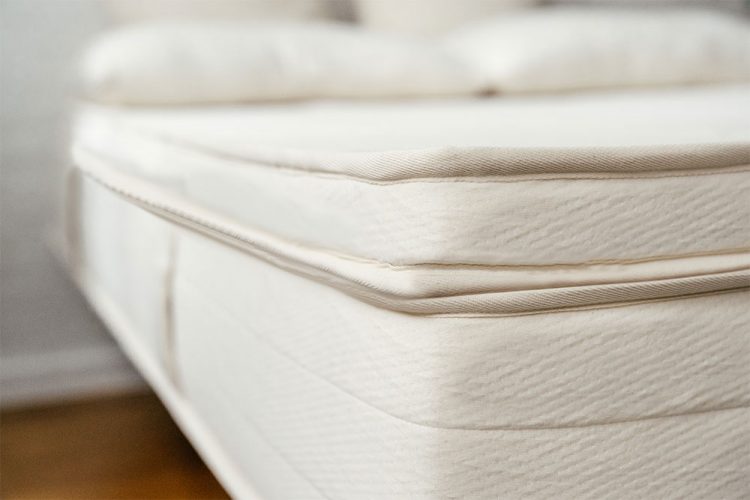 Firmness: Medium soft (4) or medium (5) or medium firm (6)
Our choice for the best mattress topper is Peace Lily, a topper made of natural latex rubber, unlike any regular synthetic topper. Peace Lily is OEKO-TEX and eco-INSTITUT certified, with both 100% organic cotton fabric and wadding. This means that Peace Lily has no Volatile Organic Compounds (VOCs), pesticides, or other chemicals and meets the non-toxic standards set by leading regulatory bodies.
The Peace Lily topper is handmade in the brand's factory. The 5cm latex-filled layer is customizable and you can order it in Luxury Plush (best for side sleepers) or Firm (better suited for back and stomach sleepers), based on your sleeping position.
After trying out the Peace Lily mattress topper, we couldn't believe the difference to the mattress underneath it made in terms of extra comfort. You can get the topper in Single, Long Single, King Single, Double, Queen, and King size with free shipping, a 100-night free trial with a full refund if you change your mind, and a 10-year warranty. The price ranges from $349 to $529.
3. OneBed ⏤ Best Memory Foam Mattress Topper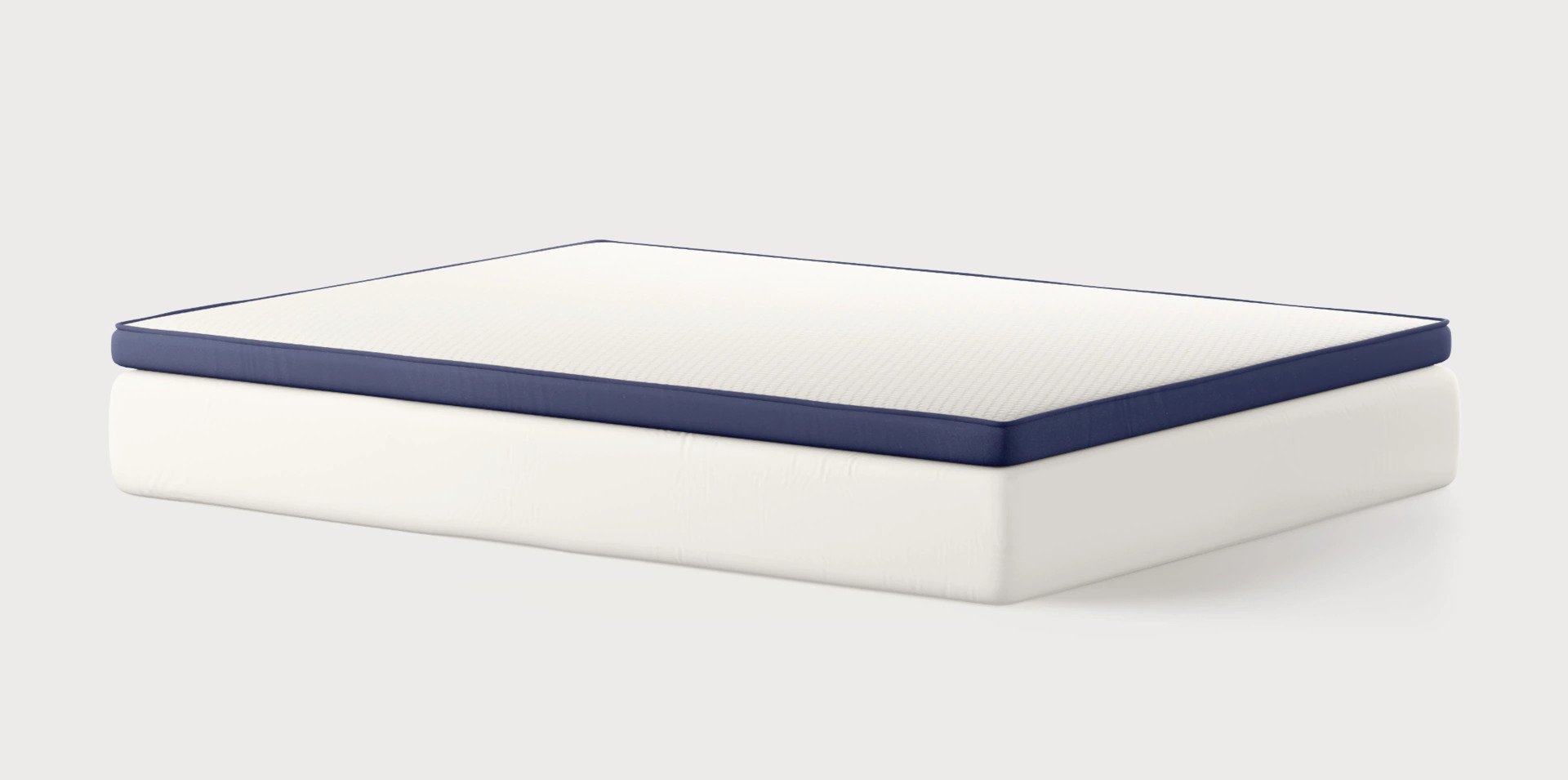 Firmness: varies (5-zone)
A great solution for the hot and humid Australian weather is the OneBed mattress topper designed with gel-infused memory foam.
The combination of 2-inch Davina memory foam and cooling gel crystals provides body support, helps with back pain, and distributes the heat evenly across the bed. It has a tender bounce back effect and 5-zoned orthopedic support focusing on the head zone, shoulder zone, lower back, thigh zone, and lower leg zone.
It's perfect if you have a co-sleeper because OneBed promises a zero-motion transfer effect that translates to no partner disturbance. You can try it for 125 nights and see for yourself whether this is true or not.
OneBed is not the cheapest topper on our list but it's our best choice for gel-lovers who like the feeling of waking up cool and fresh. Your body and mind will thank you for the unforgettable sleeping experience.
4. MicroCloud Microfibre ⏤ Best Luxury Mattress Topper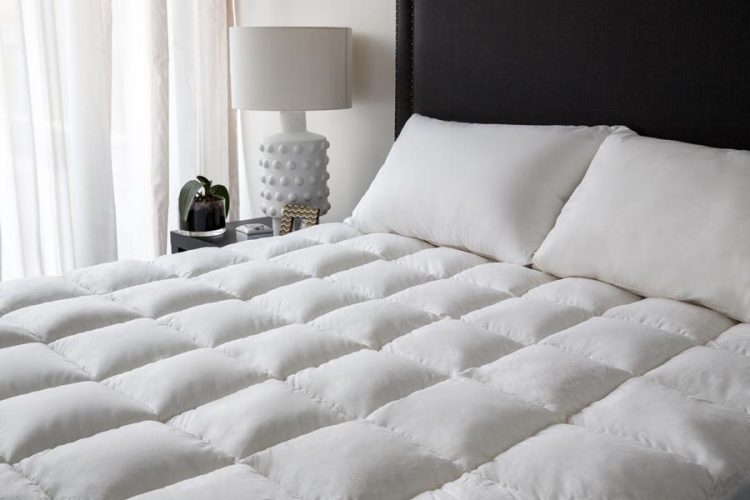 Firmness: Soft (3) to Medium soft (4)
A clear favourite mattress topper is MicroCloud, one of the most popular toppers across the country. The MicroCloud mattress topper can be found in many Australian premium hotels, such as Sydney's Shangri-La and Ovolo's 1888 Hotel. This five-star hotel bedding is available for online purchase for a quite affordable price.
This topper is a great down alternative. Although soft and luxurious, down toppers can often cause allergic reactions. To avoid this, the MicroCloud topper has been filled with gentle high-tech fiber which is both hypoallergenic and dust mite resistant. It's cruelty-free and certified by OEKO-TEX.
Judging by the reviews on Productreview.com.au, customers love this topper because it doesn't flatten like a pancake and turns an uncomfortably firm mattress soft. This sleeping surface is the cure for any sore joints or back pain. One reviewer even compared it to "sleeping on non-soggy whipped cream", leaving us with nothing else to add.
5. Ovela Bamboo ⏤ Best Bamboo Mattress Topper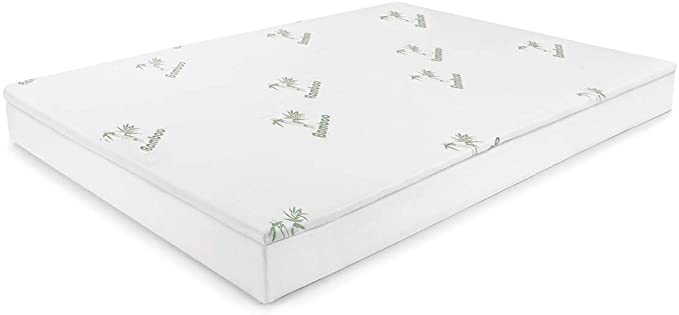 Firmness: Medium soft (4)
If you need a surface to cradle your pressure points, the Ovela Bamboo mattress topper has just the right qualities. The supportive memory foam contours your body without letting it sink too deep into the mattress, especially if your mattress has lost its shape and begun to sag.
The Ovela topper has a bamboo cover that wicks away moisture and adds breathability. This will help you have a restful sleep during sticky Australian summer nights. Similar to MicroCloud's, this light fabric is hypoallergenic, as well as dust-mite and mold resistant.
You can order it in different sizes, from single to king size. The Ovela mattress topper is the cheapest topper on our list – proof that you don't have to pay top dollar for a good night's sleep. Satisfied reviews report feeling rejuvenated after spending only one night with their Ovela mattress topper.
6. OCTAsmart Topper ⏤ Best Cooling Mattress Topper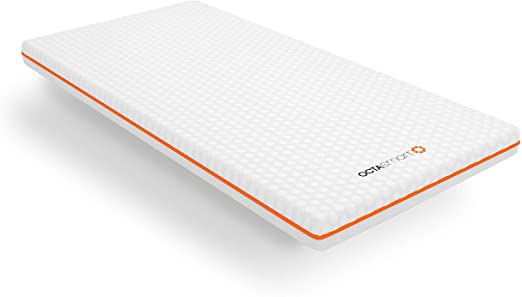 Firmness: Varies (3-zone)
Overheating is a common cause of poor sleep, especially for Aussies, which is why you need a cooling mattress topper like OCTAsmart to make it alive through the Australian summer nights. Similar to MicroCloud, OCTAsmart toppers have found their place across Australian 5-star hotels and airlines.
This revolutionary topper is made of viscoelastic memory foam and gives your body blissful comfort and spinal support by adapting to its ergonomic needs. Under the regular memory foam layer, there's an Ecocell-base (0.60") that helps lower the mattress temperature by 5°F, while the ventilation of the OCTAsmart topper makes it 8 times more breathable than regular toppers.
The smart Octaspring layer at the bottom focuses on three body zones and cradles your body in its full length by straightening the lumps of your lifeless mattress with foam springs. The air circulation is made possible with hundreds of comfort pockets over the smart performance top cover.
One slight drawback is that its price is on the higher end of the scale.
7. Bambillo ⏤ Best Bamboo Mattress Topper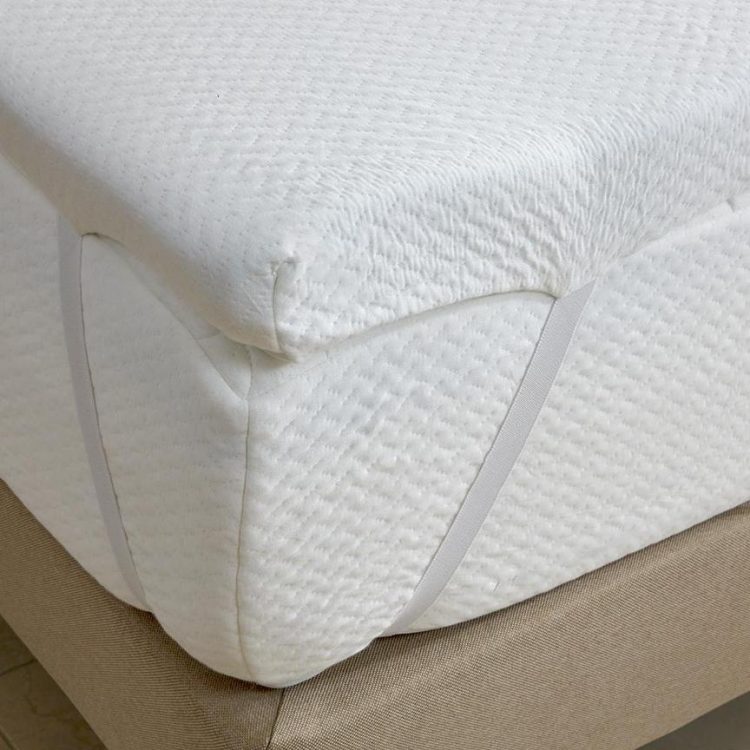 Firmness: Medium soft (4) or medium (5)
By now you know that bamboo fabric is our favorite moisture-wicking fabric because it absorbs body heat 40% better than organic cotton and ensures normal airflow during your sleep. Our favorite bamboo mattress topper is Bambillo, an antimicrobial bed topper designed with the brand's signature Gel Tek™ comfort foam.
The Bambillo mattress topper will give you a comfy and healthy sleep because it's fitting for any sleeping position. It's equally loved by those looking for a layer of comfort and those looking for pressure relief.
ProductReview features around 60 reviews on their website, most of them from customers who are satisfied with how Bambillo has improved their sleeping experience, apart from a couple of complaints on how the mattress was priced a little too high.
8. IKEA Tussoy ⏤ Best Side Sleepers Mattress Topper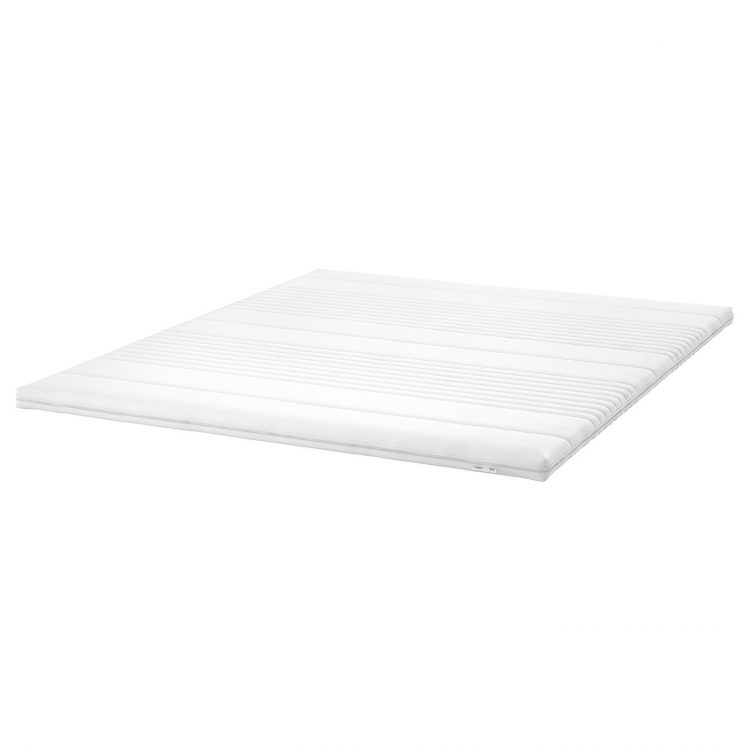 Firmness: Medium soft (4) or medium (5)
If you like to sleep on the side, you need a mattress topper that strikes a balance between softness and support because of the way your weight is distributed across the bed.
The IKEA Tussoy mattress topper offers just the right amount of firmness to encourage spinal alignment – with 8 cm, it's the thickest topper on our list – and cushioning layers of foam that gently hug your body and remove pressure from your hips and shoulders. However, as a result of its thickness, you'll have to use a fitted sheet on top of your mattress.
IKEA's topper is made of polyester (64%) and cotton (36%) with polyester fiber wadding. It's really practical because it's machine washable and quite affordable compared to other popular toppers. Most of the customers whose reviews we read on the Internet said they felt like they were sleeping on a cloud and liked that you could remove the cover to wash it.
We only ran across one or two complaints about the topper's smell, but we're confident it only takes a good airing for the odor to disappear.
9. Royal Comfort ⏤ Best Stomach Sleepers Mattress Topper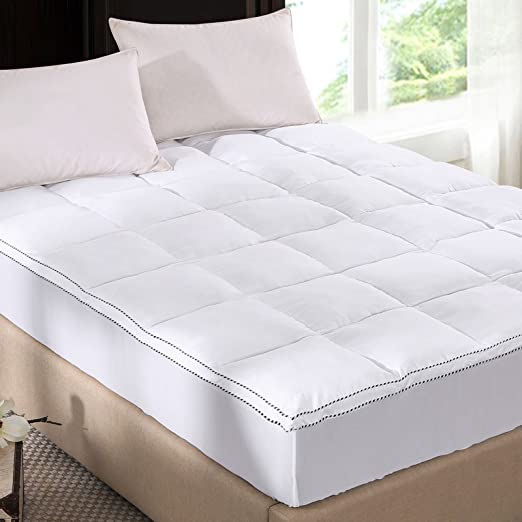 The brand Royal Comfort is famous for its luxurious bedding products such as our very favorite – the Royal Comfort 1000GSM Luxury Bamboo Gusset Mattress Topper.
This topper is perfect for stomach sleepers because it's not super thick as some of the other toppers on our list (e.g. the IKEA Tussoy one). It's a mid-range topper with a 5cm thickness, which is enough to trace the contours of your body and support it by taking the pressure off your joints.
It has breathable and hypoallergenic bamboo filling and a 100% cotton cover on top. It will fit your mattress like a glove thanks to the gusset design. One of the reviewers on Amazon had guests sleeping over on this topper who ended up purchasing a Royal Comfort topper for themselves after the visit.
Although this mattress topper is great for prolonging the life of your old mattress, we recommend using it on top of new mattresses because of its medium thickness.
10. Halcyon Dream Wool Underlay ⏤ Best Wool Mattress Topper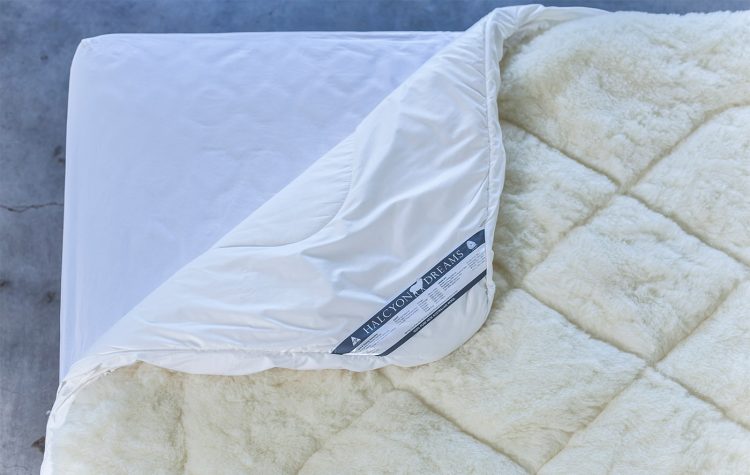 Firmness: medium-soft (4) to medium (5)
The Halcyon Dream woolen mattress topper is thinner than latex and memory foam toppers because it has a different function altogether. Actually, the correct term is woolen "underlay" instead of a topper. The difference between the two is that underlays are primarily made for temperature regulation and mattress protection.
The Halcyon Dream underlay is made of 100% Australian wool and comes in five different bed sizes and two different fitted deep skirts (35 cm and 50 cm). You can also choose between a machine washable and a dry clean underlay. The wool fiber wicks away moisture to keep you cool during the summer and warm during the winter while the lanolin staves off dust mites.
You can order this local product with free shipping across the country. However, unlike other mattress toppers, the Halcyon Dream comes with a 5-year warranty and only 30 trial nights to see whether you like it. Other than that, most customers believe you get your money's worth.
11. Ecosa ⏤ Best Eco-Friendly Mattress Topper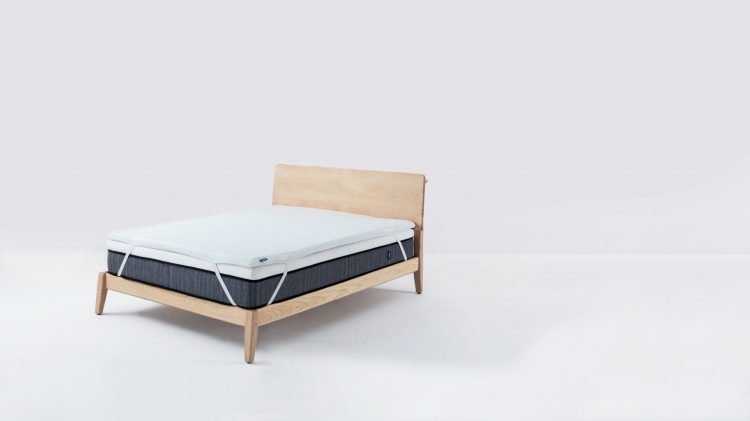 If you want to enjoy a squishy and cushy sleep without the nagging worry that you're causing harm to the environment, we suggest purchasing the Ecosa mattress topper.
The topper has been certified by leading regulators like CertiPURUS and OEKO-TEX, meaning it has no VOC substances and harmful chemicals. The Ecosa topper is no short of cloud comfort thanks to the ultra-plush memory foam that contours your body. The memory foam has two layers: charcoal-infused memory foam and a G-7 gel memory foam.
The ventilated design allows for an unobstructed airflow via pincore holes and regulates body temperature. It reduces partner disturbance and has a 380g/m2 double-knitted removable cover and elasticated straps to keep the topper in place, ticking the practicality box.
12. The Cloud 'Gen II' ⏤ Best Down Mattress Topper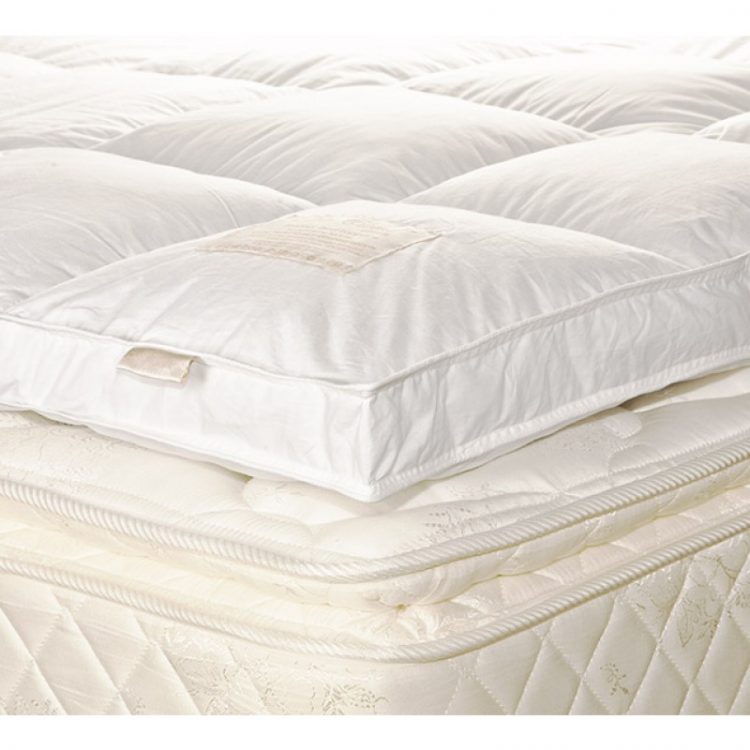 Firmness: soft (3) - medium-soft (4)
The last mattress topper on our list is the Cloud Gen II Feather and Down Mattress Topper, another popular choice used by star-rating Australian hotels.
It has an ideal ratio of 90% small soft feather and 10% down which creates the sensation of sleeping on a real cloud. Actually, the Cloud has a higher percentage of fill (2000g/m²) compared to other toppers on the market – the average being 1000g/m² – which translates to more feathers and extra comfort. Plus, it comes with a 100% Japara stain-resistant cover.
We recommend it to sleepers looking for super fluffy options because, as the name itself suggests, sleeping on this topper is like sleeping on a plush airy cloud. Instead of throwing away your old mattress, you can rejuvenate it with this thick mattress topper.
The only potential problem is that it's not hypoallergenic, so you should probably choose a different topper if you're prone to allergic reactions.