The Best Camping
Mattress in Australia for 2023

Updated on February 16, 2023
Are you looking for the best camping mattresses in Australia? Well, your search ends here as we will share with you the 10 best camping mattresses in Australia.
Read on, and find out more!
10 Best Camping Mattresses in Australia
1. Best Overall Camping Mattress – Coleman All-Terrain Double High Queen Size Mat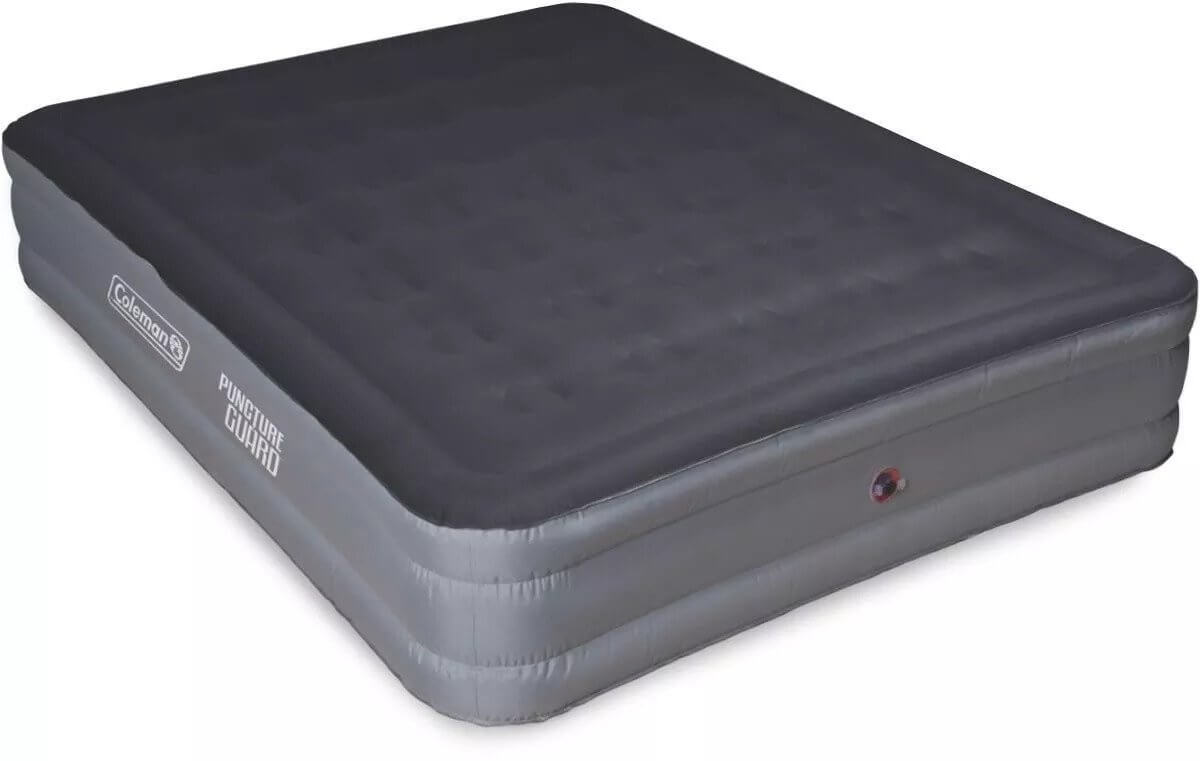 For those of you who don't want to compromise on their comfort when camping, we recommend the Coleman All-Terrain Double High Queen Size camping air mattress.
This mattress is an improvement on standard Coleman mattresses. It's made with the brand's signature Puncture Guard fabric, which is more durable and softer, 47% more puncture-resistant, 25% more stretch-resistant, and 30% lighter than traditional inflatable mattresses. It comes with a double lock dual-sealed valve to prevent any leaks.
Coleman's mattress has a strong comfort coil system that supports your body and distributes the air freely during the night. Thanks to its double-height, you won't even notice you're sleeping on the ground. Although thick, this mattress is foldable and you can simply roll it up and put in your backpack or car. If you're carrying it on your back, keep in mind that it weighs 3.8 kg. This still makes it one of the lightest and strongest air mattress options, set at a reasonable price.
Features 
Price Range: $119.90
Type: Air Mattress
Weight:  3.8 kg.
Mat Size: Queen Double
Warranty: 1-year warranty
2. Best Self-Inflating Mattress – Exped Megamat Self-Inflating Sleeping Pad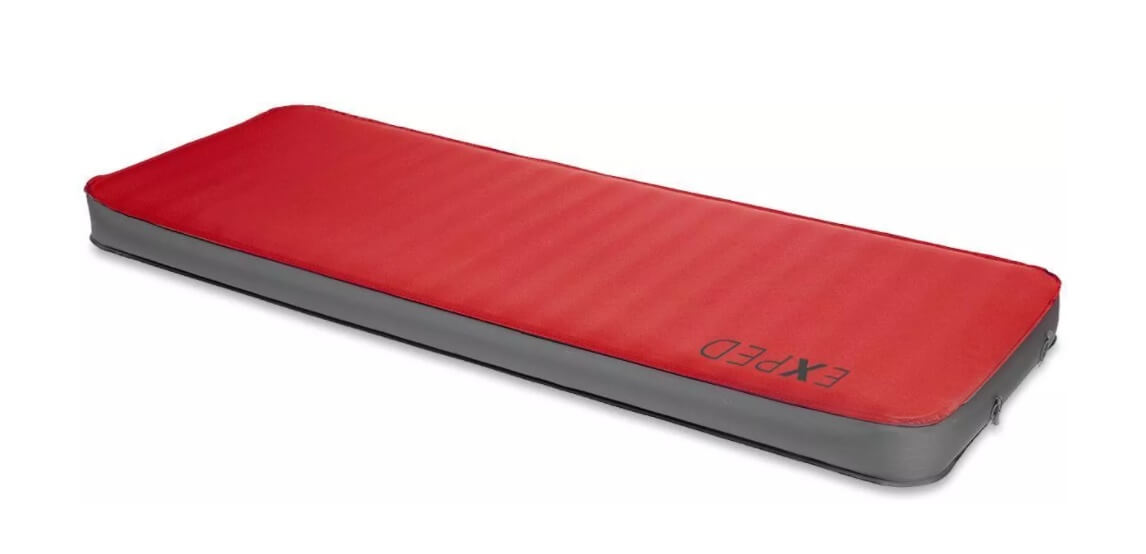 Camping can be a tiring activity on its own, which is why more and more campers turn to automated outdoor gear. The popularity of self-inflating mattresses – mattresses that inflate and deflate without your help – has increased in recent years, and so has their number. Although we've included a couple of self-inflating mats on our list, the best one among them is definitely the Exped Megamat.
The mattress comes with a mini pump as well, that allows you to adjust its height and firmness (soft, medium, or firm). The maximum thickness is 10 cm or 3.9 inches off the ground. You can order the Exped Megamat in three different sizes: Single, Single Wide, and Medium. Even though it's for one person only, the mattress has coupling stripes in case you want to attach another sleeping pad to it.
The Exped Megamat is a mattress for all seasons! With a 9.5 R-Value, you can rest assured it will keep you warm even in extreme weather. Its price is on the higher end of the scale but if you consider the fact that you can use it year-round, it really pays off.
You can use it for backpacking and hiking too because it only weighs 2.6 kg. It even comes with its own carry bag, a repair kit, and a velvet honeycomb nylon layer for edge support.
Features
Price Range: $389.95
Type: Self-Inflating Mattress
Weight:  2.605 Kg
Mat Size: 197L x 77W
Warranty: 5 Year
3. Best Open-Cell Foam Mattress – Nemo Roamer Camping Sleeping Pad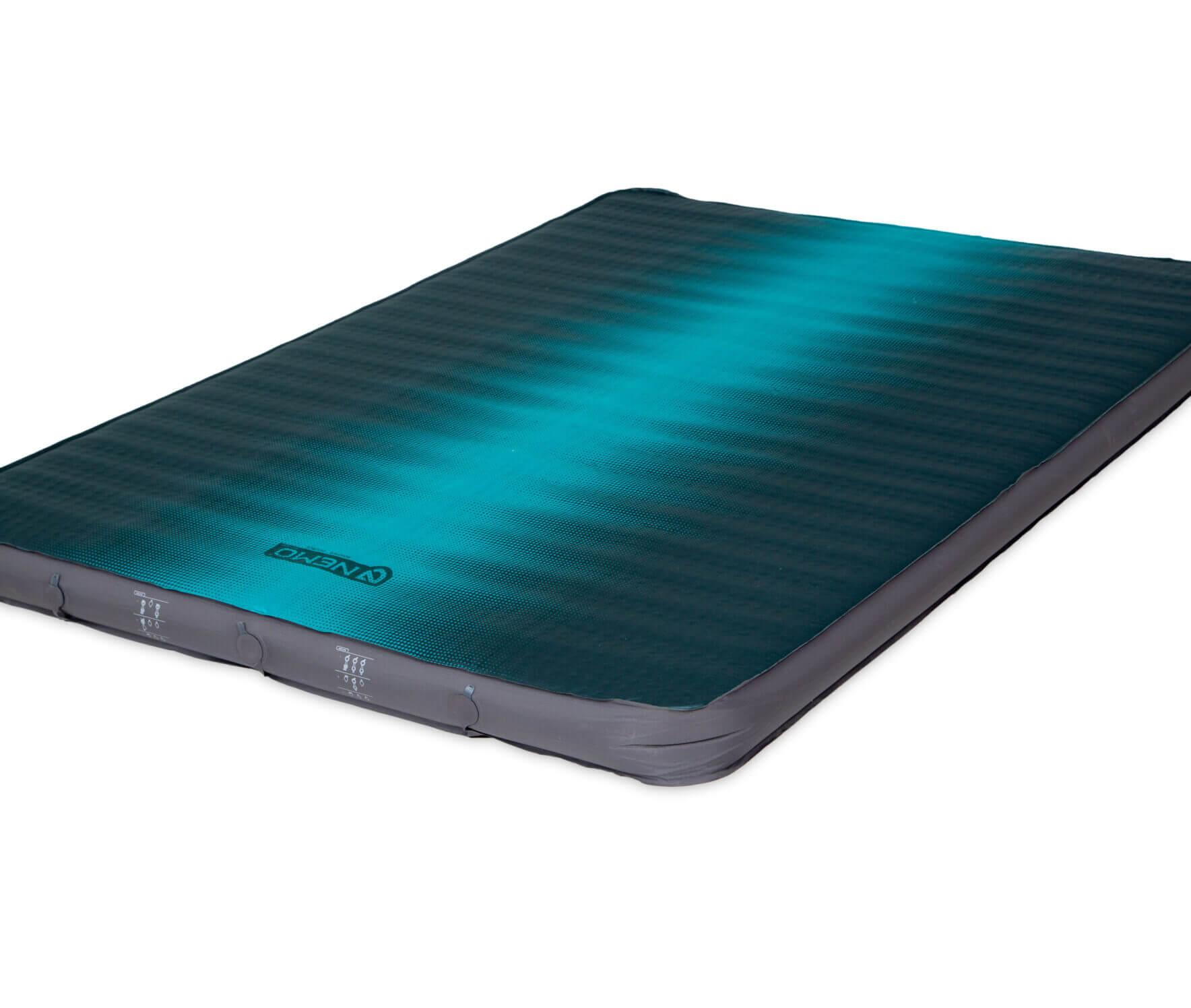 The Nemo Roamer Sleeping Pad is one of the most competitive self-inflating camping mattresses from the US that ships to Australia as well. It's the newest addition to the brand's line of camping products that includes tents, hammocks, sleeping bags, pillows, and other outdoor gear for your next adventure under the stars.
When it comes to softness and comfort, the Nemo Roamer mattress definitely ticks all the boxes. It's 4 inches thick, made of open-cell foam, a plush 59D stretch fabric on top, and a 75D bottomless polyester layer that survives even rough, bumpy terrain.
Apart from the one-way dump valve for quick deflation and pack up, the Roamer mat includes an additional micro-adjust valve, for customers to set their preferred level of firmness.
The Nemo website claims their mattress packs down to half the size of its competition, and while it's true the rolled mattress is light enough, it's more of an industry average. It comes in two sizes, Long Wide and Extra Wide, Extra Long, and has a lifetime warranty.
Features
Price Range: $249.95 to $399.95
Type: Self-inflating
Weight:  2.5 kg
Mat Size: XL Wide, Double
Warranty: Lifetime
4. Best Camping Air Mattress – AeroBed Active Air Bed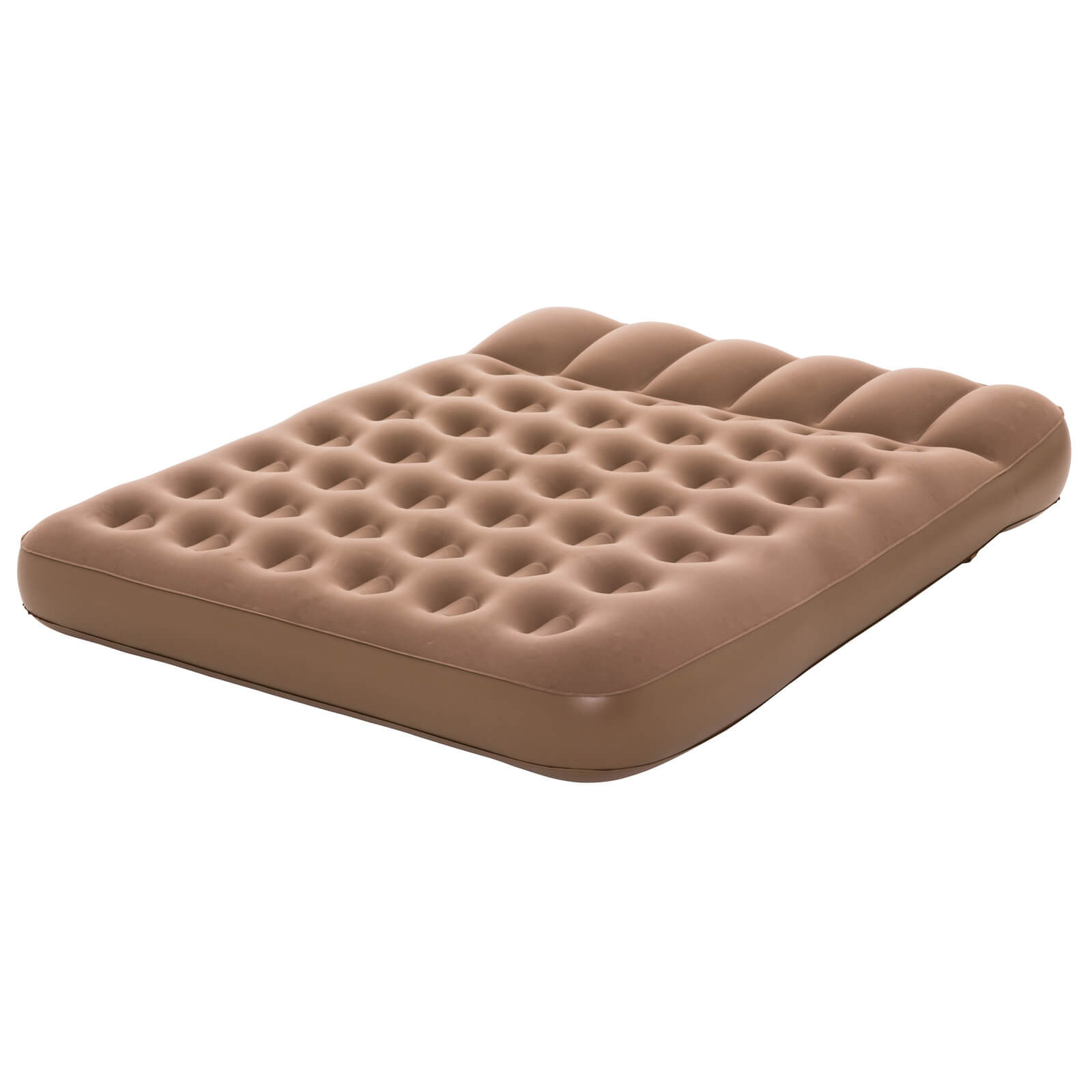 After just one try, you'll realize the AeroBed Active Air Bed closely resembles your mattress at home in terms of softness and comfort.
The mattress is made of durable PVC (polyvinyl chloride) that's both puncture-resistant and hypoallergenic and a luxurious cloud-like velour top. The heavy-duty 18 coil system distributes the pressure evenly and prevents you from sinking too deeply into the mattress. This is perfect for side sleepers, although back and stomach sleepers will enjoy its supportive thickness as well.
For easy inflation, the mattress uses a portable, and rechargeable NiCad/Dual DC Power Pump that you can easily charge in your car or via a wall socket. The Queen Size option makes this mattress suitable for couples, friends, and siblings. The AeroBed Active is quite heavy and, at 6 kg, you can only bring it with you if you're car-camping.
Another potential drawback that we must mention is the lack of insulation, which means this mattress is only right for summer outings. If you want to sleep in the country during the winter months, we suggest you look for another mat. The AeroBed mattress and pump have a 1-year and 2-year warranty, respectively.
Features
Price Range: $$
Type: Air Mattress
Weight:  6.26 Kg
Mat Size: 198L x 152W cm
Warranty: 1 Year
5. Best Ultralight Mattress – Sea to Summit Ultralight Insulated Sleeping Mat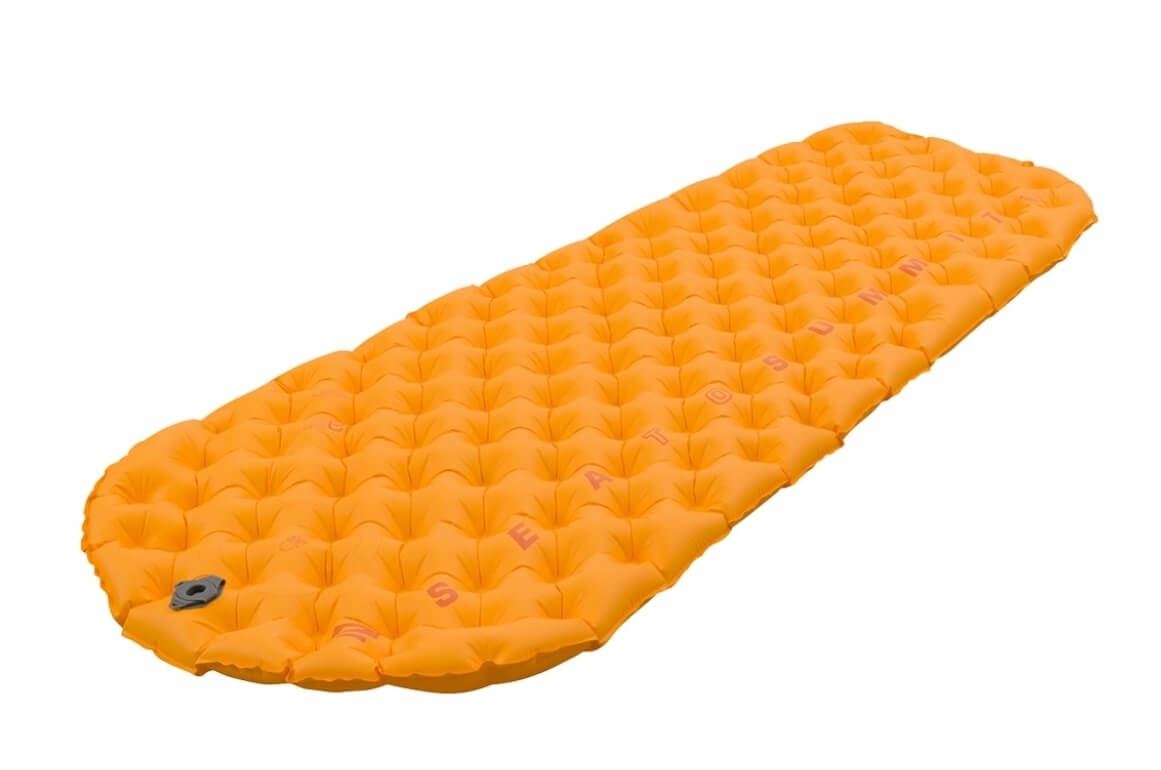 Ultralight sleeping pads are just what you need if you want to take your camping game to the next level. For all the backpackers, hikers, and bikers among our readers, we recommend the Sea to Summit Ultralight Insulated Sleeping Mat.
This mattress weighs only 480 grams, unfolds to 83×55 cm (single size only!), inflates to 5 cm in height, and packs down to a 23x11x11 cm roll. The Sea to Summit has one of the best airstream pump sacks on the market, which makes inflation fast and easy.
Speaking of rough terrain and rough weather, this mattress delivers in spades! It has an R-Value of 3.1 so it can be used in both toasty warm and cool weather. Plus, the pad was constructed with durable rip-stop fabric that's extrusion TPU laminated and antimicrobial, and a heat-reflective, silver-coated Exkin® Platinum layer. On top of that, every mattress is tested for leaks and tears before they release it for sale.
Features
Price Range: $149 to 187.90
Type: Closed-cell foam
Weight:  0.349 Kg
Mat Size: Extra Small, Small, Regular, Large
Warranty: Limited Lifetime
6. Best Therm-a-Rest Mattress – Therm-a-Rest Prolite Plus Camping Bed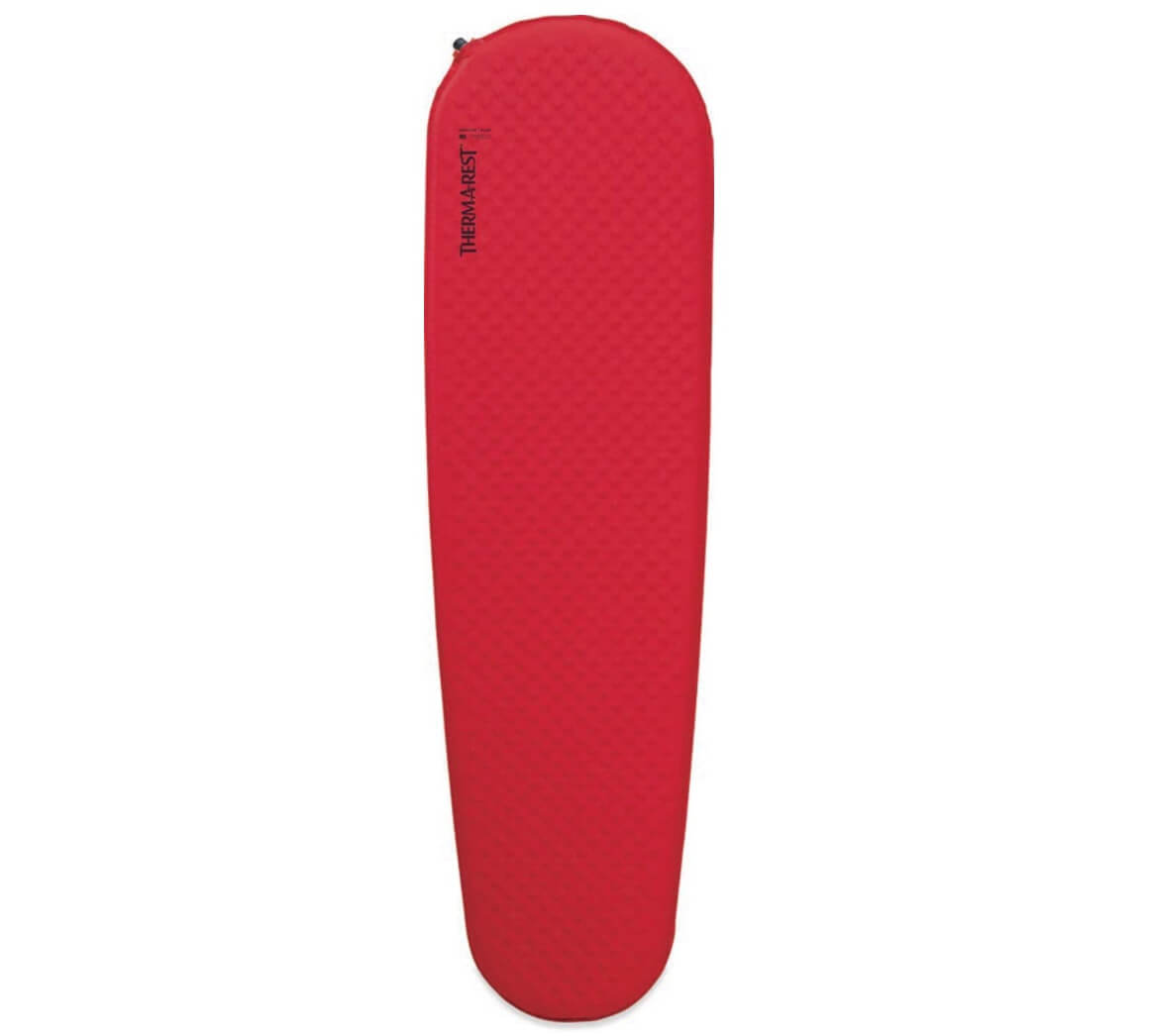 Another Australian favourite, the Therm-a-Rest mattress is the first self-inflating mattress in the world. It's designed by the company Cascade Designs, Inc., co-founded by ex-Boeing engineers, Jim Lea and Neil Anderson, who teamed up with the mountaineering expert John Burroughs to create a camping mattress that's both comfortable, warm, and lightweight.
Back then, campers used less comfortable closed-foam air mattresses with little to no insulation that easily got punctured. Therefore, it won't be an overstatement to say that Jim and Neil revolutionized the camping experience with their open-cell self-inflating mattress. In 1972, they filed for a patent on their Therm-a-Rest pads that continue to be used to this day all over the world.
The Therm-a-Rest ProLite Plus camping mattress is one of their best products. First of all, it's ultralight, weighing from 450 to 880 grams, depending on whether you want to get a Small, Regular, or Large mat. It has an R-Value of 3.2, so it's suitable for 3 camping seasons. The diagonal-cut foam increases the insulation, while its tapered design makes it extra light and compact.
It's not the cheapest option on our list but it's well worth it once put to good use!
Features
Price Range: $252.56 to $430.21
Type: Self-inflating
Weight:  Lightweight
Mat Size: Regular – 20 x 72 Inches
Warranty: Limited lifetime warranty
7. Best Camping Mattress for Hot Sleepers – OZtrail Swag Leisure Mat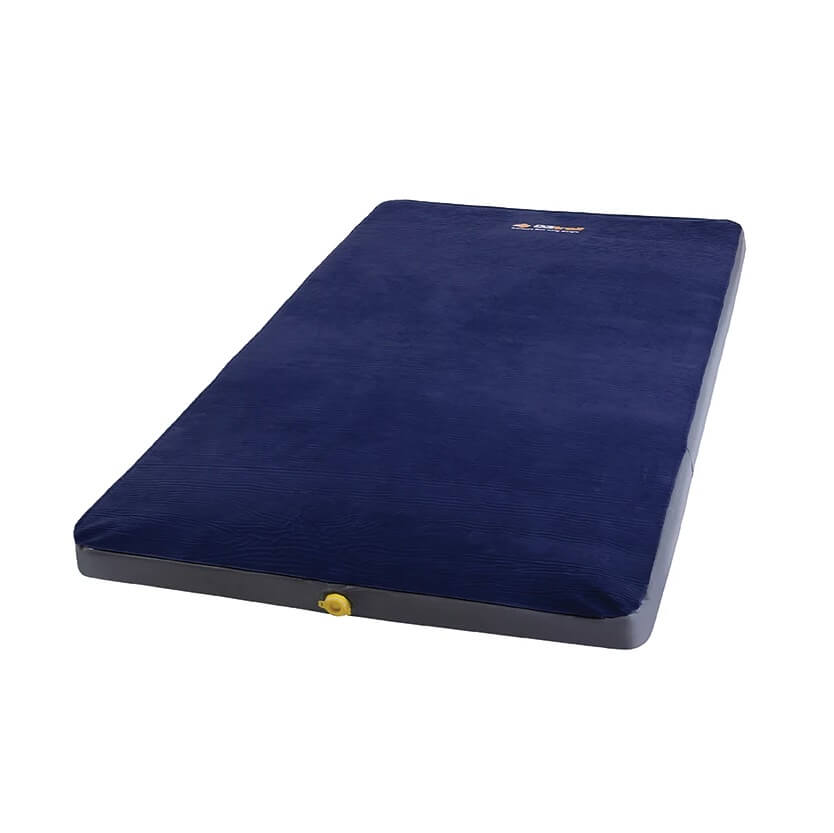 As the name suggests, the OZtrail Swag Leisure Mat is another mattress that lets you spend your outdoor trip at leisure instead of wasting precious time on setting the campsite. The mattress quickly self-inflates with a high-flow two-way flip valve that prevents your pad from suddenly deflating and losing in thickness through the night and helps to roll up the mat in a small bundle.
Available in Double, Queen, or King size, the OZtrail mat is made of high-density open-cell foam and a comfy outer layer that keeps you cool in your sleep. It's heavier than average mattresses (around 8 kg), so we suggest taking it with you on car camping trips. Overall, the sleeping mat has great features for this price point.
Features
Price Range: $119.99 to $179.99
Type: Self-Inflating
Weight:  6 Kg
Mat Size: Single, King Single, Double, Queen
Warranty: 1 Year
8. Best Budget Mattress – Mountain Equipment Helium 3.8 Warm Zone Camping Mat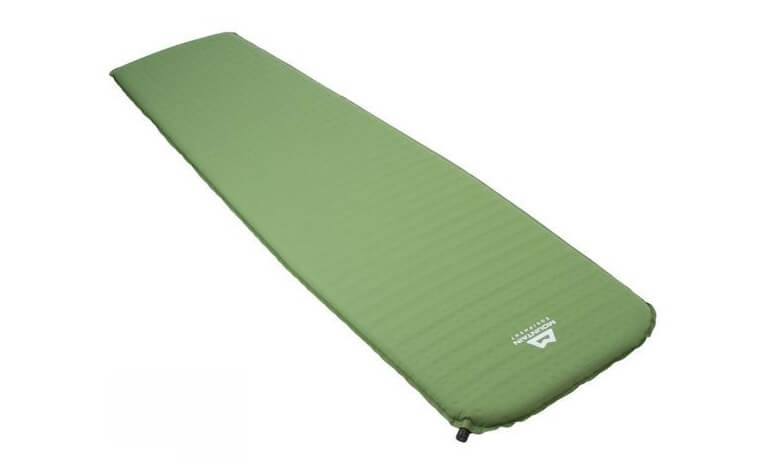 We don't want you to think that you have to pay an arm and a leg to be comfortable when camping. To bust this myth, we included the Mountain Equipment Helium 3.8 Warm Zone Mat, a budget-friendly camping mattress.
This is another lightweight option (only 750 grams) that suits hikers, motorcycle campers, and backpackers alike. But unlike some of our other light and compact mattresses, with only 3.8 cm in height, the Mountain Equipment mattress is comparably thin.
The micro-brushed top layer is made of 75D polyester, which is also used for the non-slip base and increases the overall mattress durability. The high-density foam that supports your torso will keep you warm in the freezing weather.
Apart from being a real bargain, the mattress comes with free shipping, a 100-night trial, and a 3-year warranty.
Features
Price Range: $74.73
Type: Self-inflating
Weight:  740g
Mat Size: 72 x 20 x 1.5 inches
Warranty: 3-year warranty
9. Best Backpacking Sleeping Pad – Klymit Static V2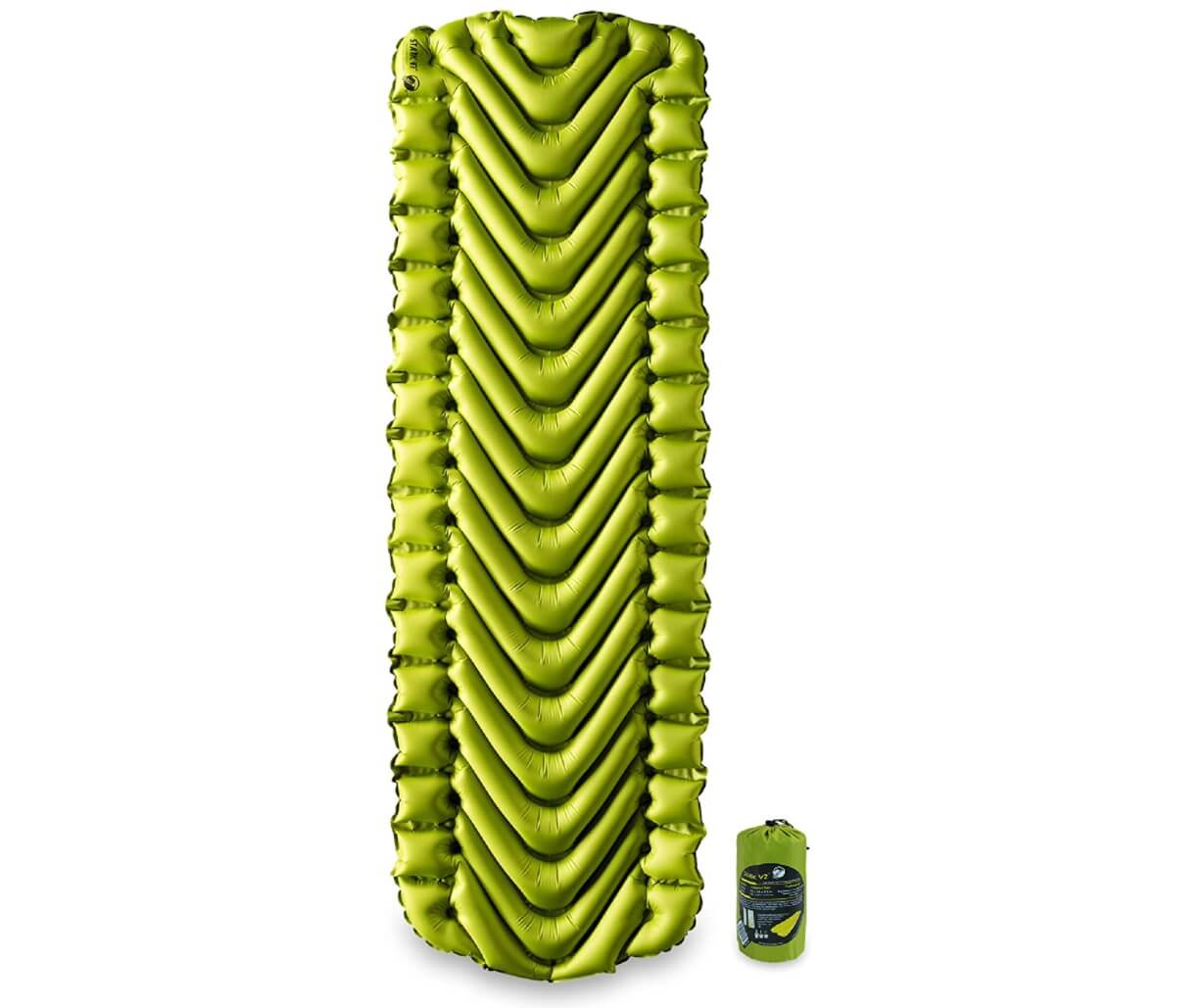 Backpackers probably know this from experience – the lighter the backpack, the more comfortable your hiking trip will be. What if your camping destination is a two-hour walk from your starting point? Considering that the camping mattress is one of the heaviest items, you can choose a lighter option to save some weight.
At 470 grams, the Klymit Static V2 is an even lighter upgrade on the Static V (by 12%!), which makes it our top pick for backpacking adventures. It's super affordable (another budget-friendly sleeping pad), a bit wider, and quite durable. The V-shaped air tubes across the surface were designed in this way to retain the heat.
One of the downsides of this mattress, however, is the 1.3 R-Value that puts it into the category of summer mats only. To make up for this, Klymit has designed other better-insulated mats (e.g. the Insulated Static V, Static V Lite, and V Ultralite SL) but these upgrades cost a pretty penny. Moreover, we also noticed that the self-inflating mechanism is not the best and deflation takes longer.
Aussies can purchase the Klymit Static V2 on Amazon.
Features
Price Range: $97.86
Type:  Self-inflating
Weight: 453.59 Grams
Mat Size: Inflated 72 x 23 x 2. 5 inches
Warranty: N/A
10. Best Couples Mattress – Zempire Monstamat Twin Self-Inflating Mat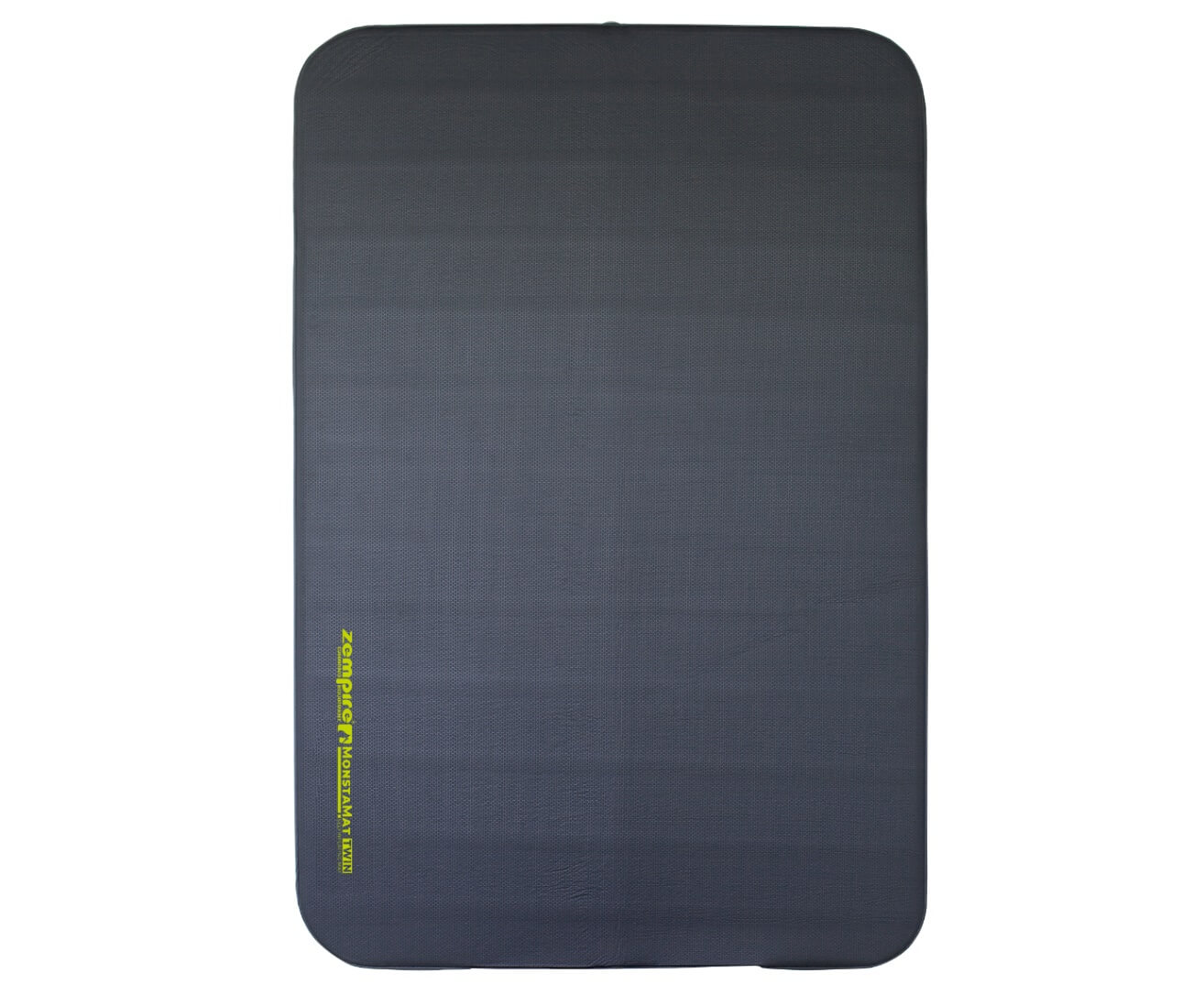 If you like to fall asleep snuggled into your partner's arms, the Zempire Monstamat Twin mattress is the right camping bed for you.
This double-width mattress expands to 201×132 cm, which is enough to accommodate two adults. It has a fully-bonded antibacterial foam but despite its thickness (10 cm) and size, it packs down to a compact bundle that comes with its own carry bag and compression strap and weighs no more than 5 kg.
The Zempire Monstamat has a luxurious stretch Ripstop nylon surface that cushions your body and minimizes partner disturbance, an internal layer made of cross cored open-cell foam for easy inflation, and a durable 75D TPU heavy-duty base. The impressive 9.5 R-Value fit for sub-freezing temperatures is another reason why this mattress is worth its weight in gold.
For couples, ordering this twin mattress will turn out cheaper than purchasing two separate mattresses. Once you order it, you get a 14-night trial and a 2-year warranty.
Features
Price Range: $329.99
Type:  Self-inflating
Weight:  6.03kg
Mat Size: 201 x 132cm / 79.1 x 52in
Warranty: 2 years
Affiliate Disclosure
bestmattress.com.au is a participant in the Amazon Services LLC Associates Program, an affiliate advertising program designed to provide a means for sites to earn advertising fees by advertising and linking to Amazon.com. Additionally, bestmattress.com.au participates in various other affiliate programs, and we sometimes get a commission through purchases made through our links.
Best Camping Mattress Compared
| Company | Price Range | Mattress Type | Weight | Size | Warranty | Website |
| --- | --- | --- | --- | --- | --- | --- |
| Coleman | $119.90 | Air Mattress | 3.8 kg | Queen Double | 1-year warranty | |
| Exped | $389.95 | Self-Inflating Mattress | 2.605 Kg | 197L x 77W | 5 Year | |
| NemoEquipment | $249.95 to $399.95 | Self-inflating | 2.5 kg | XL Wide, Double | Lifetime | |
| Aerobed | $ to $$ | Air Mattress | 6.26 Kg | 198L x 152W cm | 1 Year | |
| Sea to Summit | $149 to 187.90 | Closed-cell foam | 0.349 Kg | Extra Small, Small, Regular, Large | Limited Lifetime | |
| Therm-a-Rest | $252.56 to $430.21 | Self-inflating | Lightweight | Regular – 20 x 72 Inches | Limited lifetime warranty | |
| OZtrail | $119.99 to $179.99 | Self-Inflating | 6 Kg | Single, King Single, Double, Queen | 1 Year | |
| Mountain Equipment | $74.73 | Self-inflating | 740g | 72 x 20 x 1.5 inches | 3-year warranty | |
| Klymit | $97.86 | Self-inflating | 453.59 Grams | Inflated 72 x 23 x 2. 5 inches | N/A | |
| Zempire | $329.99 | Self-inflating | 6.03kg | 201 x 132cm / 79.1 x 52in | 2 years | |
Choosing The Best Camp Mattress
Type of Mattress
Air Mattress
The first association that people have with camping mattresses are air mattresses or mats you need to inflate yourself. To do that, you either have to blow air into the mattress by mouth (extremely tiring!) or use an air pump or SpeedValve (recommended!).
The best thing about air mattresses is that even though they're thicker than foam mattresses and therefore more comfortable, they're still lightweight and can be easily packed down to a size that fits your backpack.
On the other hand, air mattresses can be quite expensive the more compact they are. It also takes time and energy to inflate them and they usually require additional pumping before you go to sleep. Most of them release crinkly sounds when you move in your sleep, and in case they get punctured, you'll have to throw them away. If you're thinking of going camping with your pet, think twice before purchasing an air bed.
Self-Inflatable Mattress
Thanks to modern-day technological advances, we now have self-inflatable camping mattresses that take away the strain of blowing air or pumping the mattress yourself by filling with air on their own. Although it sounds like a big deal, in practice, this process is very quick and straightforward.
Self-inflating mattresses combine open-cell foam insulation and air that enters through a valve. When you unroll the bed, the valve starts sucking air in until the mattress is fully inflated and then automatically closes. You can adjust the firmness by releasing air too.
Most of these mattresses can be rolled up to fit inside your backpack but they also come in larger sizes for the glampers (glamorous campers) and car campers among you. They don't produce that waterbed sensation that makes you feel like you'll fall off the mattress in your sleep and they're warmer and softer than air beds.
However, self-inflatable mattresses can also be expensive and even the light versions are still heavier than air mattresses.
Foam Camping Mat / Pad
The third type of camping mattress is the foam mattress or camping pad made of high-density foam and tiny closed air cells that tries to imitate the regular bed mattress you're using at home.
Probably the best thing about these mats is that you just take them out of your bag, roll them out or unfold them, and they're good to go. It's also harder to damage or tear foam mattresses so, pet-lovers, these are definitely for you.
However, the price for such practicality is their lack of thickness. Don't expect an ultra-comfortable or cloud-like sleep if you have a cheap foam camping mattress as they're really thin and lack sufficient support. If you go for the other extreme, i.e. a thick and cushy memory foam mattress, you'll end up with a heavy and bulky pad.
Size
Camping mattresses come in different sizes, lengths, and widths so that every customer can find their match. Mat dimensions are very important because they can affect your overall camping and sleeping experience.
You might feel tempted to invest in a spacious mattress but always consider the size of your camping tent first. Imagine your disappointment when you realize your luxurious new mattress is too large to get inside your tent.
On the other hand, we don't want you to feel uncomfortable, which is why the mattress should be long enough for your height and wide enough for your size if you don't want your hands and feet to be hanging off the ends.
Comfort / Thickness
Everyone wants a comfortable camping mattress but not all campers have the same preferences in terms of how firm their sleeping surface should be. This largely depends on their favorite sleeping position.
Back sleepers need firmer mattresses to support the natural curve of their spine. Side sleepers need a thicker pad to cushion their hips and shoulders, same as stomach sleepers who need a mattress that provides pressure relief. We advise you to try out mattresses on the spot when you're shopping at the store or to check out customer reviews if you're purchasing an online mattress.
The only drawback for those who prefer thicker mattresses is they tend to be heavier and take up more space. If you're a car camper and have a larger tent, this won't be a problem.
Packability & Packed Size
Unless you're traveling by car to your camping destination, and you're not limited by mattress size and weight, you'll have to pay attention to the packability of the camping mat. Even then, you can't go over the top and let the mattress take up all the room in the back of your car.
We know it can be hard to be practical, but sometimes there's no alternative. If you're on a hiking trip or own a small vehicle, you have no choice but to quit comfort for a lighter and thinner camping mattress. However, you should keep in mind that compact mattresses can cost a little extra because of the sophisticated folding and inflating mechanisms they use.
For example, the popular ultralight sleeping pads are every backpacker's dream, but they cost a pretty penny. If you can't afford them, you can always buy a cheap memory foam mattress or an ultralight twin-mattress if you're camping with your partner.
Insulation and R-value
Another thing campers should pay attention to is their sleeping pad's insulation capacity and R-Value. During the night, your body loses body heat to the cold ground, which is why you need a sleeping mattress with the right materials to retain the heat.
The sleeping mat's R-value takes into account the mattress's insulation and thickness to assess its capacity to resist heat flow and keep you warm at night. The higher the R-Value, the higher the insulation power.
The R-Value ranges from 1 (minimum level of insulation) to 5+ (high level of insulation). Aussies who only go camping in the summer will be fine with low R-Value mats (1-3), but winter campers should look for mattresses that have at least R-Value 4 or more.
If you stack two or more mattresses on top of each other, their total R-Value would be the sum of their individual R-Values.
Sleep System: Sleeping Pads and Sleeping Bags
The sleep system is your ticket to a good night's sleep outdoors. It consists of three components: a sleeping bag, a sleeping mattress, and sleeping clothes.
Here's a simple table showing the recommended sleep system combinations based on expected nighttime low temperature, the mattress's R-value, and the sleeping bag temperature rating:
| | | | | |
| --- | --- | --- | --- | --- |
| CONDITIONS | WARM | COOL | COLD | EXTREME |
| Expected Nighttime Low | 10°C | 0°C | -7°C | -18°C |
| Mattress: R-Value Range | Under 2 | 2 – 3.9 | 4 – 5.4 | 5.5+ |
| Bag: Temperature Rating | -1°C or lower | -7°C or lower | -10°C or lower | -18°C or lower |
Budget
Finally, you must adjust and narrow down your camping mattress choices based on your budget. The price of these mattresses can be anywhere between $20 and a couple of hundred dollars. You should be willing to pay more if you want to treat yourself to one of the expensive spacious mattresses that are conveniently packed and lightweight at the same time.
However, it doesn't mean that cheaper mattresses are made of low-quality materials and won't last the season. You can find great camping mattresses within your price range.

Bree is an interior designer with a passion for helping people improve their sleep quality.
She specializes in creating comfortable and functional bedroom spaces that promote a good night's rest.
When she's not testing mattresses or helping people get the best rest possible, Bree loves to travel and explore new cultures.