Emma
Mattress Review 2023

Updated on September 6, 2022
How many hours do you sleep a night? Do you sleep well, or is your sleep restless or interrupted? Have your sleep patterns changed over the years? Do you sleep better alone or when sharing a bed with a partner? Do you wake to feel rested, or do you stay tired and sleepy all day? 
As we age, our bodies naturally require less sleep. The quality of that sleep, however, is still critical. The normal human sleep cycle alternates between two phases: REM (Rapid Eye Movement) and non-REM sleep. Getting a good night's sleep isn't only about catching z's. The critical REM stage is when our bodies undergo the repair cycles related to physical health, mental acuity, and overall well-being.
Many people don't spend enough time in the REM phase, so they wake up groggy, full of aches and pains, and perhaps in a general cranky mood. While it's tempting to dismiss the odd restless night as just a one-off, the chances are that if you keep waking up on the wrong side of the bed, the solution may be simple: you may sleeping on an old, worn-out mattress.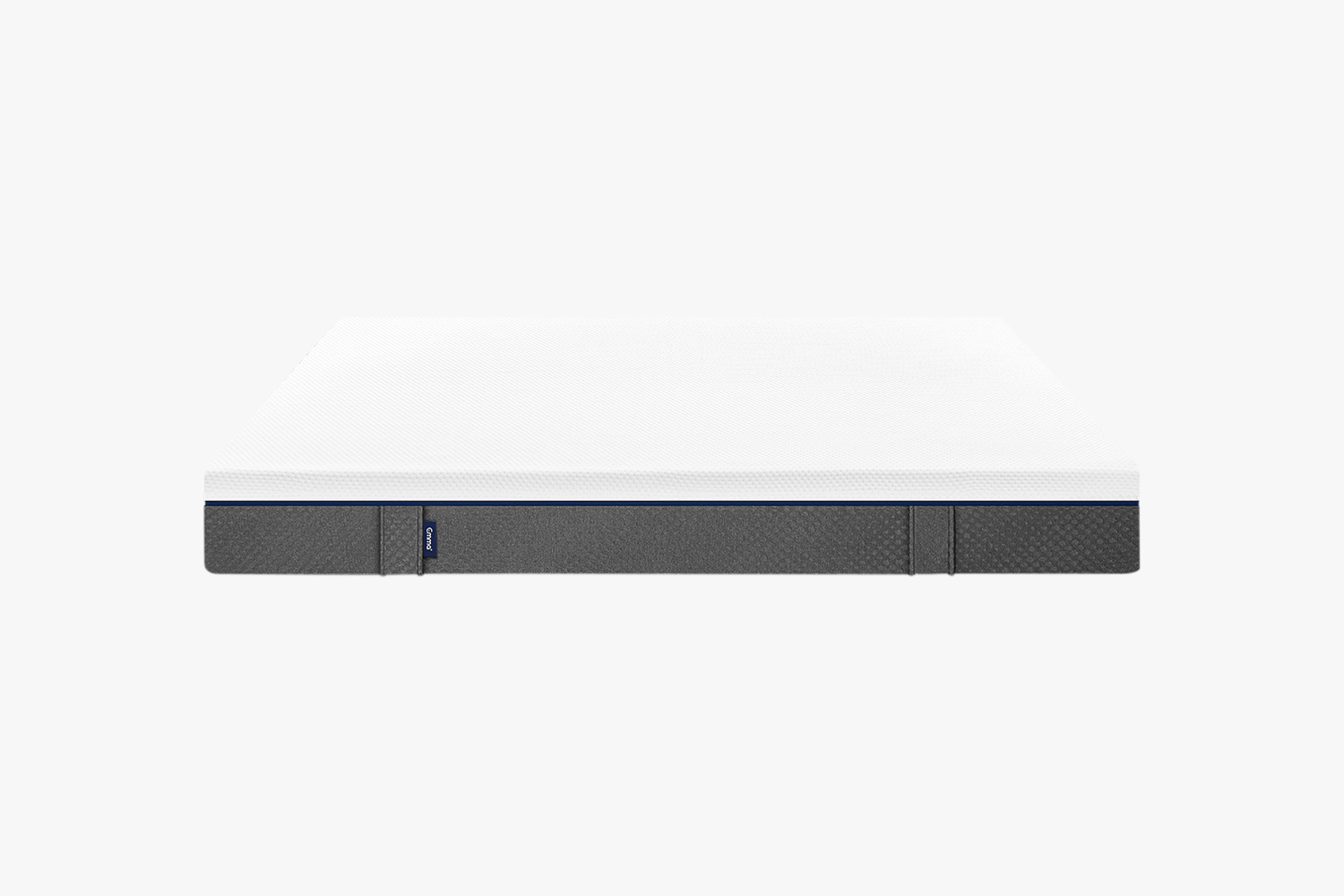 Is It Time for a New Mattress?
If you've been dreaming of a good night's sleep, now may be the perfect time to consider changing your mattress. While you're cruising the market for a new model, consider a soft memory foam mattress. Unlike the traditional innerspring mattresses, these new versions offer incredible comfort and support.
One outstanding entry in the market is the Emma mattress. Its award-winning design is the perfect marriage of technology and comfort.
Scientists link deeper, quality sleep to a more robust immune system. If you spend just one night with the right mattress, you should wake up refreshed. You may notice less general achiness and even a difference in your spinal alignment. An extended period of quality sleep leads directly to
a higher level of memory retention
better weight control
reduction of snoring
This Emma mattress review will fully explore the advantages of the highly engineered mattress and dive deeper into the technology behind it.
The Emma Story
Emma is a hugely popular German mattress retailer, founded in 2015. Emma is a part of the Bettzeit corporate family. A key aspect of its products is the attention to spinal support and alignment, regardless of the sleep position. Designed by a team of engineers, the Emma model combines three types of memory foam with seven specific zoned channels to produce the perfect blend of support and cushioning. The unique design of bouncy Airgocell and the dense polyfoam provide optimum comfort.
This exceptional mattress engineering has won a number of European awards, and the company has recently expanded its overseas market to include Australia. Locals have definitely taken note. The Emma mattress has received the top spot for innovative design by CHOICE, a leading consumer advocacy group in Australia. The eco-conscious consumer will be pleased to know that all Emma products are free of harmful substances and are safe for child use.
Standard Selections
Emma is available in five standard sizes
Single – perfect for a toddler, teenager, or the occasional overnight guest
King single – longer and wider than a standard king mattress, perfect for almost anyone
Double – suitable for two small adults or a growing teenager
Queen – the most common size of mattress, it sleeps two adults comfortably
King size – offers ample space for two adults, with additional room for a dog or child
All Emma mattresses are compatible with standard bed bases and duvet frames. They even work with futons and adjustable bed frames!
Ordering and Unboxing
Once you've made the smart decision to order an Emma, the rest seems to fall into place. The ordering process is straightforward. Simply place the order online and expect delivery within seven working days via DPD, UPS, or Parcel Force. You'll receive a tracking link so you can trace your parcel status at any time. If you have a complex schedule, you can also choose a specific date and time for your delivery. As a bonus, there is no extra delivery charge for the mattress, and all deliveries are contact-free.
If you have any questions about the ordering process, need more information, or have questions about the product line, Emma's team of friendly customer service experts is available to help during business hours.
The packaging also reflects the innovative standards that the company has embraced. The Emma mattress falls into the category of a "bed in a box." The mattress is vacuum-packed, shrink-wrapped, and placed in a box that's about a third of the size of a traditional mattress. This form of packaging is a huge advantage over the traditional innerspring models of mattress since it's easier to manoeuvre and store. Even though the process compresses the mattress to about half its size, buyers will immediately notice that it's fairly lightweight and easy to unpack—perfect for tiny spaces or for lugging up stairs.
After taking the compressed, rolled-up mattress out the box and removing the protective packaging, a buyer should place it on the base and leave it in position. It will slowly unfold itself and expand into its final shape in about two to three hours, although it's best to leave it overnight for full expansion.
In the past, a major complaint about foam mattresses was a slight chemical smell during unpacking, but apparently, that is no longer an issue with the newer models.
Peeling Back The Layers
The mattress is a substantial 25 cm deep and consists of an outer cover and three individual foam layers. The outer cover is a soft polyester-blend fabric that easily unzips for quick removal and is machine washable. Since polyester is very breathable, this aids with heat dispersion and does a great job in regulating body temperature – a must in Australian weather!
The second layer is 3 cm of Airgocell foam, which provides the initial level of immediate pressure relief. The foam's open core structure is its key to circulating air and encouraging heat dispersion.
The third layer is a 2 cm visco elastic foam that provides cushioning and relieves pressure. This contour layer works with the first to actively support the sleeper, cradling the body while encouraging relaxation.
The foundation layer is 19 cm of a high-density polyfoam containing specially designed zone support channels that help distribute the body's weight evenly, with extra relief at key pressure points.
In a particularly nice touch, Emma features convenient handles on the sides. Even though this model doesn't require periodic flipping, these handles are nice to have when installing or arranging occasional furniture repositioning. Buyers will find them indispensable when changing linens or duvet covers.
The Comfort Assessment
This Emma mattress review assesses the comfort factor and cooling properties of the model, taking into consideration the majority of sleep positions and accounting for most body types.
Sleepers will immediately notice the quality of the outside cover. Breathable and eco-friendly, the polyester fabric actively disperses moisture and body heat, encouraging positive airflow. Bottom line: it prevents you from overheating, which can be a huge deterrent to sleep during an Australian summer.
Side sleepers will immediately notice that the memory foam cups their shoulders and hips, providing cushioning while keeping the spine and neck in proper alignment. Back sleepers will appreciate the all-over body support that provides the right level of cushioning at key pressure points, especially at the lower back. For tummy sleepers, the hips and torso receive nice support from the zoned channels and stay in line with the head so that you will feel no tension or misalignment.
You'll have no need for constant repositioning through the night. Emma is inviting from the get-go—the top layer simultaneously envelops you in the cushioning while the underlying foam provides support with just enough resistance to prevent too much sinking.
Bothered by a fidgety sleep partner? No worries. The Emma mattress proves exceptional at minimizing any transfer of movement, meaning that your restless nights may well be behind you. This is great if you're a light sleeper, so you will likely remain undisturbed as your partner shifts. If you happen to have small children or pets who love to crawl into bed with you, you will discover minimal transfer of movement even with large gestures or sudden motions.
The air-circulating properties of the foam provide another advantage. In the past, body heat retention was the chief complaint of the old foam mattress, but no longer a concern. Emma does an admirable job of regulating a sleeper's body temperature by continually circulating the air and dispersing any extra body heat.
As an added bonus, if customers still find their sleep a little too warm or they need a bit more support, the company will send an additional firm comfort layer at no extra charge. This layer goes directly under the mattress cover and provides an additional layer of support and coolness.
Warranty and Guarantee
Since the company is so sure you'll fall in love with the Emma mattress, it offers an inviting 100-night trial period. This period is a great way of taking the mattress for a test drive since you can try out a couple of different positions and get the full sleep experience. You'll notice an immediate difference in the quality of sleep, but the company urges buyers to test Emma for a full thirty days before making a decision.
It's a safe bet that you'll fall in love with the Emma mattress. However, in the unlikely event that your sleep experience doesn't leave you fully charmed for whatever reason, the company offers a full refund. It will even collect it for free – you won't need to repack it!
Along with this excellent customer service comes a generous 10-year warranty that ensures the quality and longevity of the mattress components. If Emma fails under normal usage conditions, the company offers to repair the mattress at no charge to the customer.
If you find a structural defect in the material components, the company offers a full replacement and will collect it at no charge. This warranty includes both the mattress and the cover. If any cracks appear in the foam or the cover has a damaged zipper or faulty stitching, these have coverage under warranty.
Additionally, if any dips or hollows appear in the foam under normal usage, the company will repair or replace at no charge. The Emma Company stands behind its product and is proud of its commitment to quality.
Decision Time
This Emma mattress review takes into account several body types and preferred sleeping positions. Across the board, the mattress provides superior performance and does a first-rate job of supporting while cushioning. You'll experience excellent body contouring through every shift and turn and find welcome relief for your pressure points.
Emma has raised the bar when it comes to foam mattresses. The innovative design of cushioned and supportive foam is the perfect blend of form and function. It offers superior body support by adapting to your specific body shape while neutralizing pressure and distributing body weight across the seven zones.
No matter what your preferred sleeping position, you'll find that Emma does a beautiful job of encouraging proper spine alignment and support and automatically regulates the pressure as you shift in the night. The minimal transfer of movement is a game-changer for light sleepers; you should sleep like a log. Heavy snorers may even notice a marked difference in their breathing. Since the Emma encourages proper head and body alignment, your airways will be fully open and engaged, encouraging deep breathing.
Emma is suitable for a wide range of sleepers, and the majority of buyers will appreciate the science behind the product. So if you're looking for a richer sleep experience and are curious about how technology can encourage better sleep patterns, try this superior foam mattress. Catch more than a catnap. Get deeper, more restorative sleep with Emma.